Event Closed
The event administrator has closed online registration for this event.
General Information
Event Name:
St Bernard Church Harvest Festival 6th Annual Discover Assonet 5K Road Race
Start Date:
09/29/2012
Start Time:
07 : 00 AM
End Time:
08 : 00 AM
Location:
St Bernard Church, 30 S. Main St (Rte 79)
Assonet, Massachusetts 02702
Event Information
Entry
$22.75 early registration by September 28
For online registration, entry forms & course map go to racewire.com
Race Day: $25.00 ($23 w/ military ID)

Awards
Overall (top 3 males & females): $50, $25, $10 gift certificates.

T-shirts for the first 100 registered runners & walkers.
Post-Race Festival Activities
Free sandwiches and beverages for all registered runners!
Post-race festival activities for all participants, families and friends!

Proceeds
Proceeds benefit the charitable activities of St Bernard Church.

For additional information, see www.stbernardassonet.org
Course Map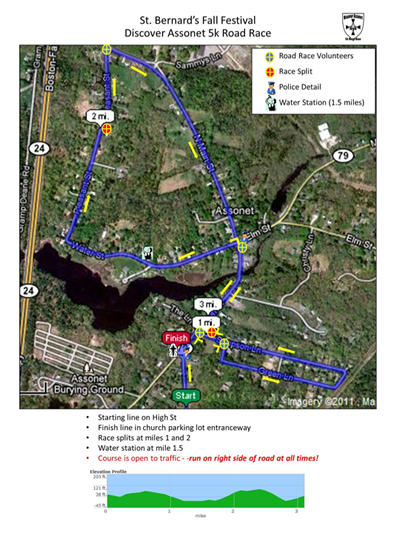 Event
Event Name:
Cost ($):
Distance:
Road Race
$20.00
5km
I know that running is a potentially hazardous activity. I should not enter or run this event unless I am medically able and properly trained. I agree to abide by any decision of a race official relative to my ability to safely complete the run. I assume all risks associated with running in this race including, but not limited to, falls, contact with other participants, the effects of weather, including high heat and/or humidity, the conditions of the road and traffic on the course, all such risks being known and appreciated by me. Having read this waiver and knowing these facts, and in consideration of your acceptance of my application, I, for myself and anyone entitled to act on my behalf, waive and release the event, and all sponsors, their representatives and successors from all claims or liabilities of any kind arising out of my participation in this event even though that liability may arise out of negligence or carelessness on the part of the persons named in this waiver. Jog strollers are not allowed. All fees are nonrefundable.
I have read and accept all waivers:
By clicking on the button below, you agree to RaceWire's Terms of Service and Privacy Policy.