About Judith Rose Shea Foundation for Ovarian Cancer & OCEAN at MGH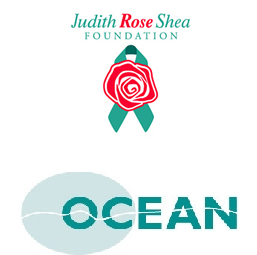 The
Judith Rose Shea Foundation
was created in 2000 after Judy Shea, beloved wife and mother passed away from Ovarian Cancer. The foundation was created to help raise awareness, educate women and raise money that would support OCEAN at Mass General Hostpital. Through the combined effort of JRS and OCEAN the main purpose of the foundation is to bring Ovarian Cancer to the fore front and to help survivors, patients and families live daily with this disease.
OCEAN (Ovarian Cancer Education Awareness Network)
is a non-profit, member support organization, founded by ovarian cancer survivors and supporters under the umbrella of the Massachusetts General Hospital. Since it's inception in February 2000, OCEAN has successfully sponsored a variety of diverse events that raise public awareness of this lesser known women's cancer.