Event Closed
The event director has closed online registration for this event.
Event Information
New Year's Classic
On Line Registration is now closed but we would still love to see you at the race. Come join us and register on race day at the Eagle Brook Saloon. One of the Wrentham Lions will be happy to assist you. This is the 19th annual Wrentham Lions New Year's Classic 5K. The fun, low key 5K includes a hearty and delicious breakfast from our generous host, The Eagle Brook Saloon, a pair of running gloves or a buff and all of the race proceeds support the many local charities of the Wrentham Lions. Come out and get your new year started out on the right (or left) foot with a great run and the supportive running community of the New Year's Classic.
Course Maps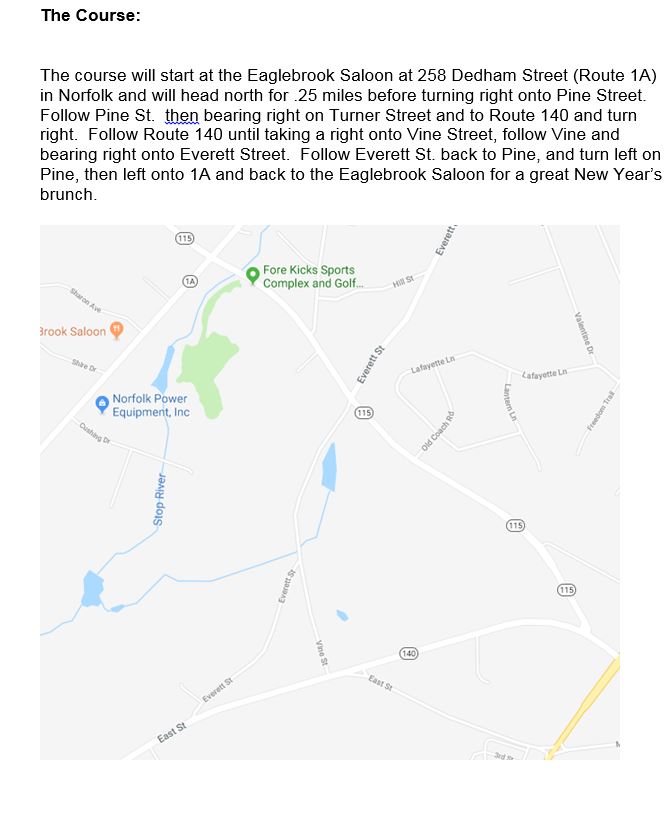 Release/Waiver: By signing this waiver, I the undersigned, hereby assume all risks associated with running in this event. In consideration of the acceptance by the Wrentham Lions Club of this entry, I hereby for myself and my heirs, executors, or administrators, waive and release all rights and claims for damages that I may have against the Wrentham Lions Club, its members and volunteers, the Town of Wrentham, its employees and The Eagle Brook Saloon, and its employees; from any and all claims, damages I may have as a result of my participation in this event.Enter waiver text here. SecureFee™ Registration Cancellation Insurance is offered in most states. If purchased, your registration may be covered for one of the covered reasons stated in the policy.