Event Closed
Online registration is closed for this race. Morning-Of-Race Registration available for $40.00 (cash only) starting at 8:30 am. Running Against Racism 5K Saturday, May 4, 2019 Registration: 8:30 am Race/Walk Start: 9:00 am Awards: 10:00 am Bluemont Junction Park, corner N. Wilson and N. Manchester Streets 601 N. Manchester Arlington, VA 22205 5K@ChallengingRacism.org
Event Information
Join Us!
Please join us for a very special community event!

Challenging Racism is proud to host Running Against Racism, our first 5K run/walk to honor heroes of Arlington's history who have challenged racism and who serve as an inspiration to us every day. Proceeds from the race will support our mission to expand Challenging Racism's anti-racism education every year through more conversations and more trained facilitators in more locations.
Arlington Heroes
Running Against Racism: Recognizing Past Heroes Who Challenged Racism in Arlington

CHARLES DREW, 1941: Father of blood banks, Howard University head of surgery
DOROTHY HAMM, 1956: Black plaintiff in NAACP desegregation suit against APS (son, E. Leslie Hamm, Jr)
BARBARA MARX, 1956: White plaintiff in NAACP suit against APS (daughters, Anne Marx, Claire Marx)
THOMAS R. MONROE, 1971: First Black member of Arlington Bar Association
EVELYN SYPHAX, 1980: First Black Arlington School Board Chair
Course Maps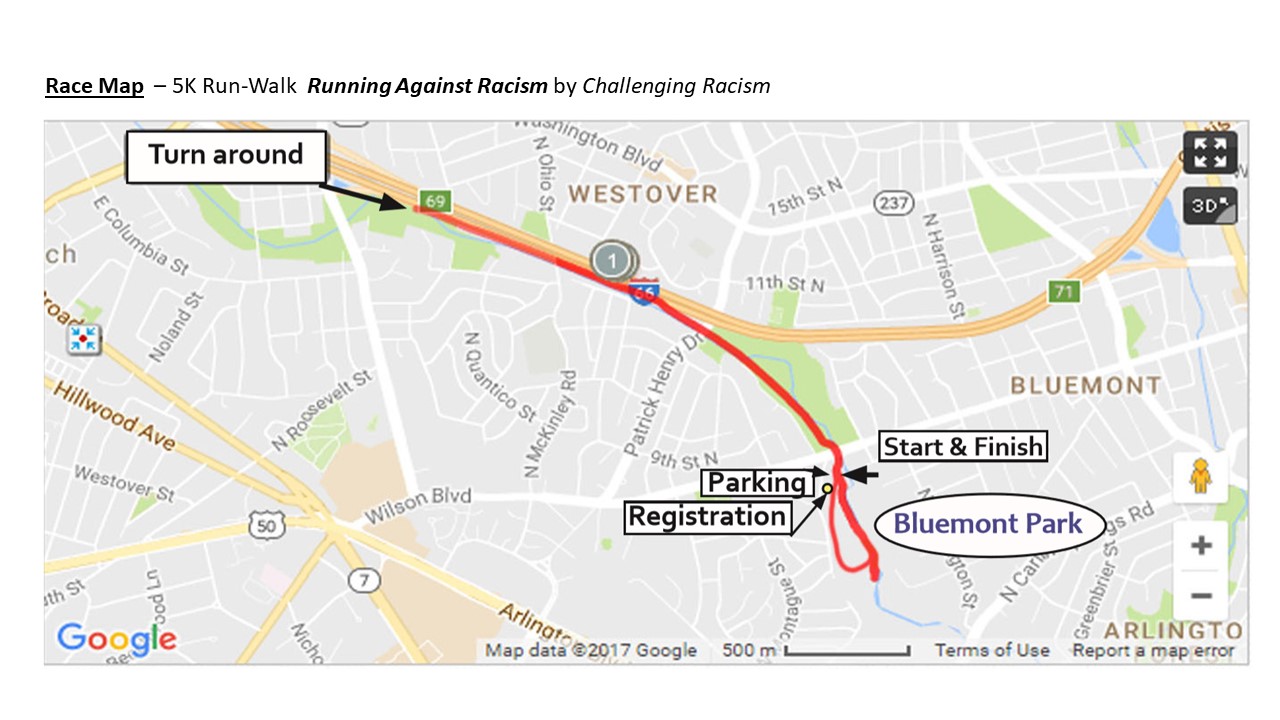 Team Registration Style
Please select a method of registration below:
Join a Team: Pick from a list of team names on the next page and join your team.
Create a Team: Once you create a team, participants can join your team under the "join a team" option above.
Individual Registration: Register as an individual participant.
This document is a waiver of any claim by the participant against the sponsoring organization, Challenging Racism, or the event director, RunSignup.com, for damages or injuries suffered by the participant because of participation in the fundraising event on May 4, 2019. I, the participant (or parent or guardian of a minor who is a participant), in consideration of being allowed to participate in this fundraising event, hereby waive any and all right and claims for damages or injuries that I may have against the event director, RunSignup.com, and all of their agents assisting with the event, and/or the sponsor, Challenging Racism, and their representatives and employees, for any and all injuries to me or my personal property because of my participation in this event, including all injuries and/or damages suffered by me before, during or after the event. I know that running or walking in a 5K is a potentially hazardous activity. I should not enter and run or walk unless I am medically able and properly trained. I agree to abide by any decision of a Challenging Racism official relative to my ability to safely complete the Run/Walk. I assume all risks associated with walking/running in this event, including but not limited to contact with other participants, effects of the weather, including high heat and/or humidity, traffic and the condition of the road/trail, all such risks being known and appreciated by me. I recognize, intend and understand that this release is binding on my heirs, executors, administrators, or assignees. I also authorize the use of photographs or videos that include my image for promotional, informational, or other reasons deemed to be in the best interest of the event. I certify as a material condition to my being permitted to enter this race that I am physically fit and sufficiently trained for the completion of this event. I accept that the event will be held rain or shine and in the event of a cancellation due to exceptional circumstances, I will not be given a refund. By submitting this entry, I (or my parent or adult guardian for all children under 18 years) acknowledge having read and agreed to the above waiver.