Event Closed
The event administrator has closed online registration for this event.
Event Information
About This Event
The RCOE Foundation Fun Run-Walk is a non-sanctioned 5K/1K event at the Riverside City College Evans Field, 4800 Magnolia Avenue, Riverside, CA (use entrance on Brockton Avenue and Tequesquite Street). The event is for every type of runner and is great for the whole family. The proceeds benefit disadvantaged students throughout Riverside County by offering scholarships to help bridge the financial gap to secondary education.
Schedule
Friday, September 27, 2019
EARLY BIRD CHECK-IN
11:30 a.m. - 2:00 p.m.
RCOE Conference Center
3958 12th Street, Riverside, CA 92502
Pick up your race bib, t-shirt, and goodie bag a day early and receive a BONUS raffle ticket!

Saturday, September 28, 2019
RACE DAY
8:00 a.m. Registration/Check-in and race number pick up
9:00 a.m. 5K Fun Run-Walk
10:00 a.m. 1K Kids Fun Run-Walk (12 and under)
Riverside Community College - EVANS Field
4800 Magnolia Avenue, Riverside, CA (use entrance on Brockton Avenue and Tequesquite Street)



Post Race Events
Join us in the FUN zone for the kids which will include face painting, arts & crafts, and games. There will be several raffle drawings, snacks, live music, and fun for the entire family!
T-Shirts
You will receive a race t-shirt and goodie bag with your registration fee.
The Course
Please see map below.
Event Cap
This event will be capped at 300 participants.
Course Maps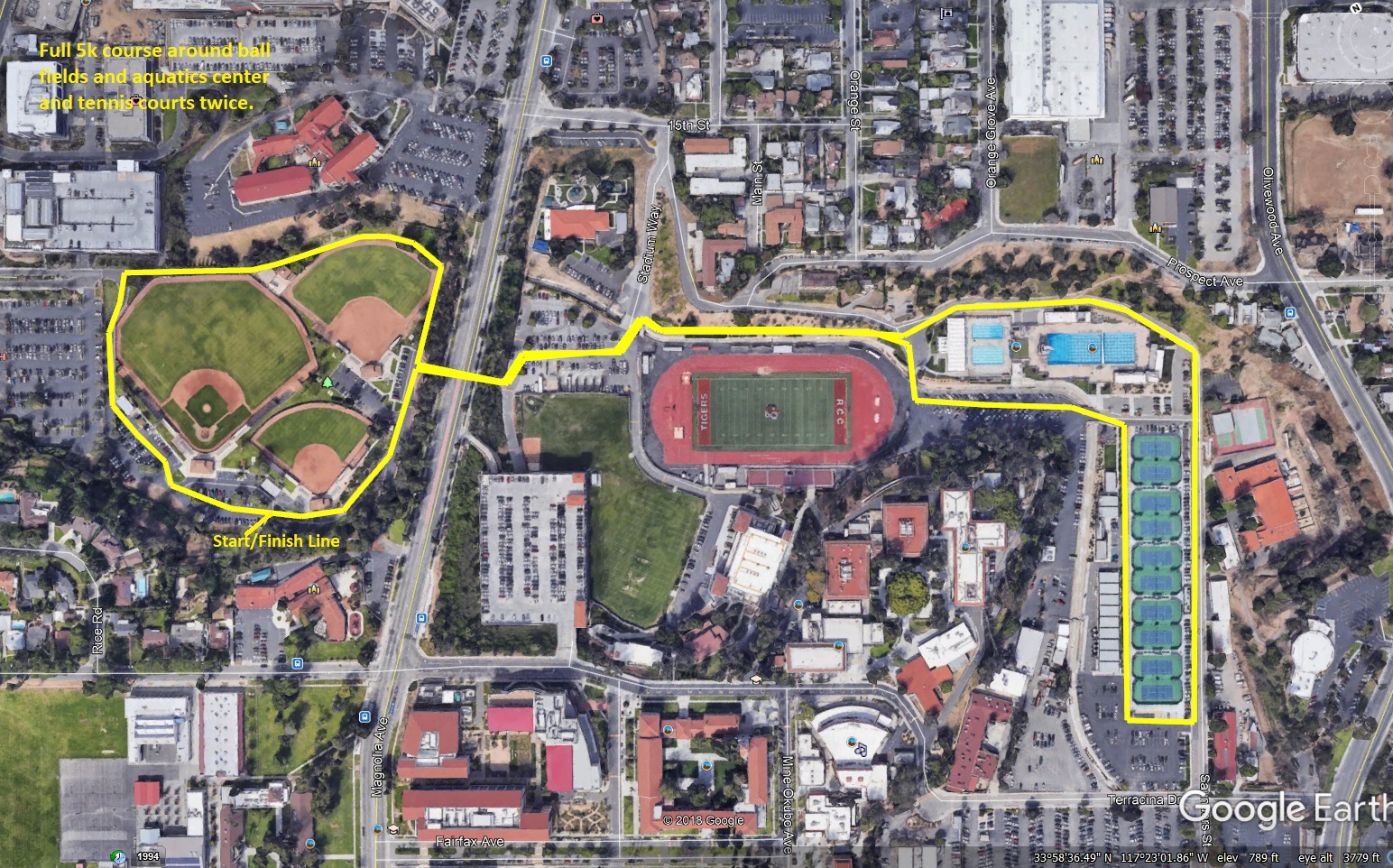 ACCIDENT WAIVER AND RELEASE OF LIABILITY FOR RIVERSIDE COUNTY OFFICE OF EDUCATION FOUNDATION: I acknowledge that this athletic event is an extreme test of a person's physical and mental limits and carries with it the potential for death, serious injury and property loss. The risks include, but are not limited to, those caused by terrain, facilities, temperature, weather, condition of athletes, equipment, vehicular traffic, actions of other people including, but not limited to, participants, volunteers, spectators, coaches, event officials, and event monitors, and/or producers of the event, and lack of hydration. These risks are not only inherent to athletics, but are also present for volunteers. I hereby assume all of the risks of participating and/or volunteering in this event. I realize that liability may arise from negligence or carelessness on the part of the persons or entities being released, from dangerous or defective equipment or property owned, maintained or controlled by them or because of their possible liability without fault. In consideration of my application and permitting me to participate in this event, I hereby take action for myself, my executors, administrators, heirs, next of kin, successors, and assigns as follows: (A) Waive, release and discharge from any and all liability for my death, disability, personal injury, property damage, property theft or actions of any kind which may hereafter accrue to me including my traveling to and from this event, THE FOLLOWING ENTITIES OR PERSONS: Riverside County Office of Education Foundation, Riverside County Office of Education, and City of Riverside, their directors, officers, employees, volunteers, representatives, and agents, the event holders, event sponsors, event volunteers; (B) Indemnify and hold harmless the entities or persons mentioned in this paragraph from any and all liabilities or claims made as a result of participation in this event, whether cause by the negligence of releases or otherwise. I understand that at this event or related activities, I may be photographed. I agree to allow my photo, video or film, likeness to be used for any legitimate purpose by the event holders, producers, sponsors, organizers and assigns. I hereby certify that I have read this document and that I understand its content. SecureFee™ Registration Cancellation Insurance is offered in most states. If purchased, your registration may be covered for one of the covered reasons stated in the policy.