Event Closed
The event administrator has closed online registration for this event.
Event Information
Information
The 8th Annual HJI 5K and 1 Mile Run/Walk is a community-based event aimed at raising funds for and generating awareness of Hayden's Journey of Inspiration, or HJI. HJI was founded by Hayden Zavareei after she survived her fight with Leukemia. When Hayden relapsed, her family had to move to Duke to obtain a cord-blood transplant. HJI has renovated three beautiful apartments in Durham to provide free housing for families who have to make the same trip to Duke for life-saving transplants.

The HJI 5K starts at the east side of Bulls Run Parkway at the southern-most intersection with Adelaide Drive and continues through the tree-lined streets of the beautiful Wyngate neighborhood of Bethesda. Parking will be available at the North Bethesda Middle School (8935 Bradmoor Drive Bethesda, MD 20817).

For Individual or Family Registration select
If registering additional family members -- Register yourself first then click CONTINUE to review your registration information. Scroll to the bottom of the page. DO NOT click on "CONFIRM REGISTRANTS" if you are adding an additional family member. Click on "Add Additional Participants" then make your selection from the Sub Event list. Enter registration information for new person, click CONTINUE. Review registrations then click on CONFIRM REGISTRANTS.
Discount for Walter Johnson cluster students, faculty, and staff
If you are a student or work within the Walter Johnson cluster, we are excited to offer you a discount on your registration! Use code WJohnson19 on the next page to receive $15 off the regular registration fee.
Course Maps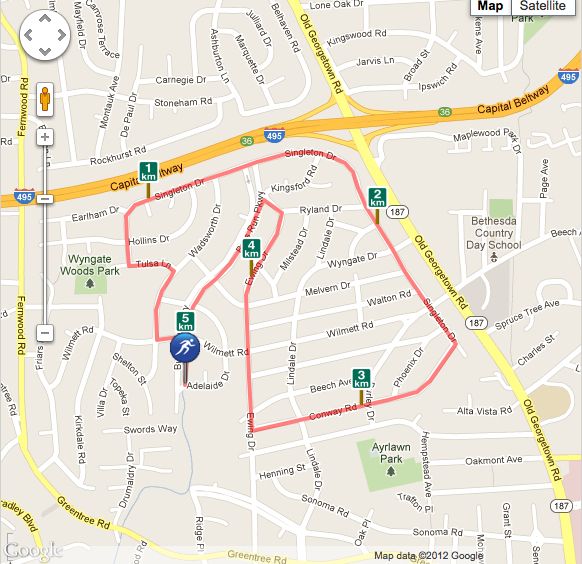 Waiver: In consideration of accepting this entry for myself or for the person that I am registering, I, the undersigned, intending to be legally bound hereby, for myself, my heirs, executors and administrators, waive and release any and all rights and claims for damages I may have against this event, all towns/cities it occurs in, the event staging facilities, and any sponsors, as well as any person involved with this event. I fully understand that I, or the person I am responsible for, will be subjected to roads and trails that may have uneven terrain, rocks, roots, and other obstacles, but that I am physically fit and have sufficiently prepared for this race. My physical condition has been verified by a licensed medical doctor. I hereby grant full permission for the event to use any photos, videos, or any other record of this event for any purpose whatsoever. Furthermore, I understand that my entry into this event is NON-REFUNDABLE and that no refunds will be issued regardless of reason, which includes even if the event is not held. I agree to the above waiver and attest that I am either the participant or the parent/legal guardian of the participant. SecureFee™ Registration Cancellation Insurance is offered in most states. If purchased, your registration may be covered for one of the covered reasons stated in the policy.