Event Closed
The event director has closed online registration for this event. Same-day registration will be available at the event starting at 8am.
Event Information
Event Information
Sunday Morning Details
Registration begins at 8am. Race kicks off at 9am! Cash, credit and debit cards will be accepted.

Directions
The staging area is on the Courthouse Lawn across from the Calvin Theater. For GPS purposes please use 19 King Street Northampton, MA.

Why We Run
We run to raise awareness of mental health and addiction disorders and to put an end to the stigma surrounding these often misunderstood illnesses that affect so many of our friends and families.

Medal Categories
Our 5K is officially timed by RaceWire. Medals will be awarded to the top three finishers in each of the following categories: Male/Female in Overall, Boys/Girls 12 and under, and Male/Female 55 and over.
Leashed Pets Welcome!
Four-legged friends are welcome to run for free!

BRAND NEW THIS YEAR! Out of town or can't physically make it to the race? Participate virtually. Join in the fun by picking your own 5K route to run!

*NOTE* Register by July 1, 2020 to receive "Early Bird" Pricing AND your t-shirt size. After July 1st, prices rise $5 and t-shirt sizes are not guaranteed.

Course Maps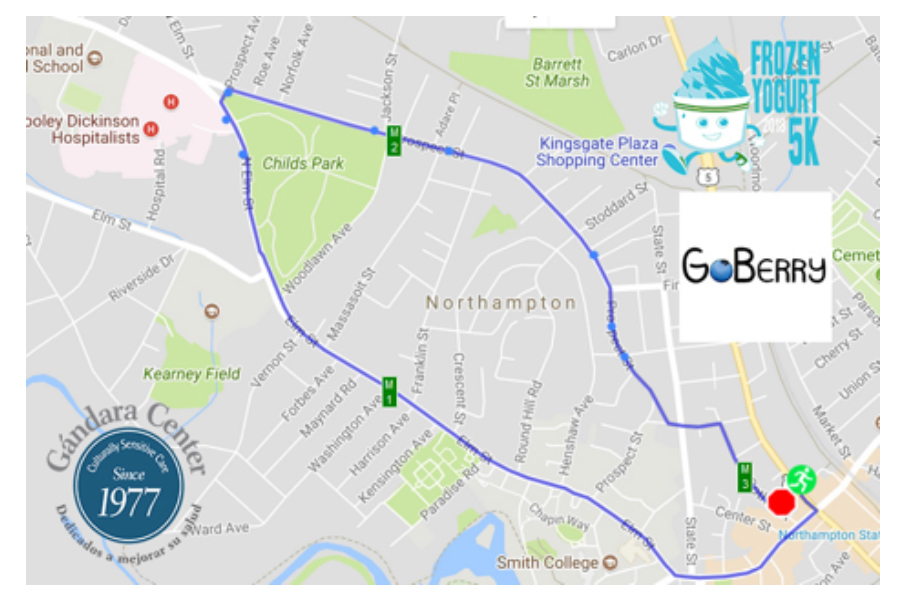 I know that running a road race is a potentially hazardous activity. I should not enter and run unless I am medically able. I agree to abide by any decision of a race official relative to my ability to safely complete the run. I assume all risks associated with running this event including, but not limited to falls, contact with other participants, the effect of weather (including high heat and or humidity), traffic and the conditions of the road, all such risks being known and appreciated by me. Having read this waiver and knowing the facts I for myself, anyone entitled to act on my behalf, and on behalf of any minors I am responsible for, waive and release the Gándara Center, Go-Berry, their representatives, all sponsors, the race organization and successors from all claims or liabilities of any kind arising out of my participation in this event. I give my full permission to use my likeness in all media, photo, recording or other record of this event for any legitimate purpose. (Parent or guardian must sign if participant is under 18) SecureFee™ Registration Cancellation Insurance is offered in most states. If purchased, your registration may be covered for one of the covered reasons stated in the policy.