Event Closed
Unfortunately, due to the ongoing situation with COVID-19, and guidance from the Commonwealth, the 2020 Beach and Back Half Marathon and 5K in Mashpee was cancelled. All entries from 2020 will be rolled over to the June 2021 edition of the Half Marathon and 5K. The June 2021 date as shown on this page is currently TBD. Reach out to support@racewire.com with any questions.
Event Information
Custom Event Swag
Gender Specific Tank Tops for All Registrants
Custom Event Sun Glasses for All Registrants
Custom Koozie to the First 1,000 Registrants
Custom Event Half Marathon Finisher Medal (you have to finish)
Post-Race Party
Beer For All Finishers (21+ of course)
Free Snackage (Additional options for purchase)
Course Maps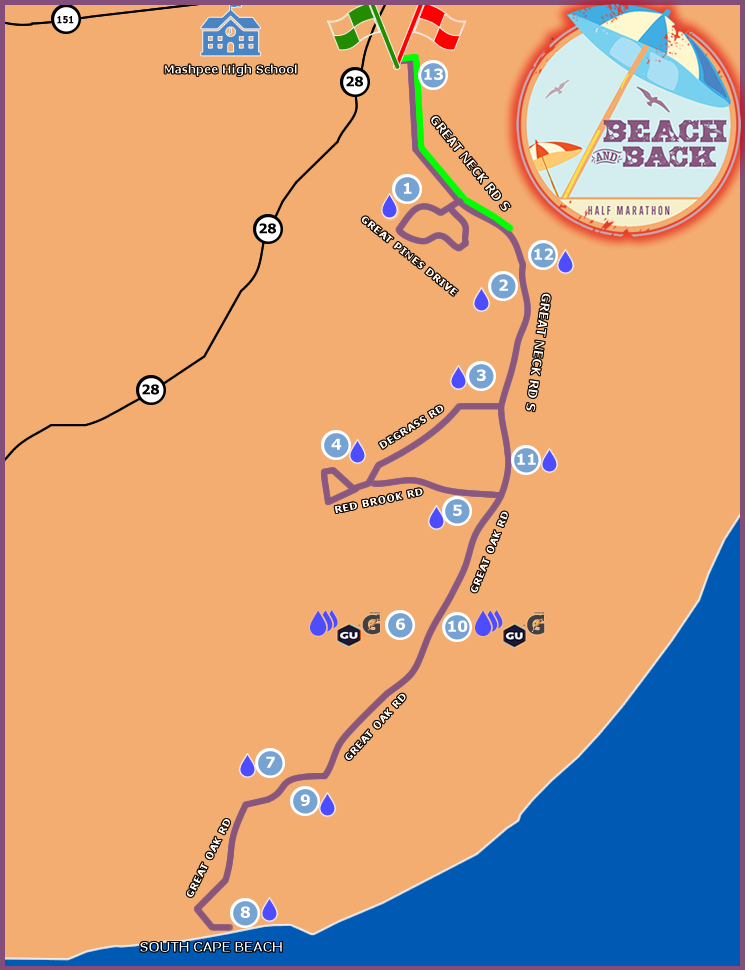 I hereby for myself, my heirs, executors and administrators, waive and release any and all rights and claims for damages I may have against RaceWire, sponsors, coordinating groups and any individuals associated with the event, their representatives and assigns, and will hold them harmless for any and all injuries suffered in connection with this event. I attest that I am physically fit to compete in this event. Further, I hereby grant full permission to any and all of the foregoing to use my likeness in all media including photographs, pictures, recordings or any other record of this event for any legitimate purpose. Race management reserves the right to postpone or cancel the event due to events out of management's control such as weather, natural disasters or other emergencies. No refunds will be issued under these circumstances. Management may also alter the course and distances for the safety of the athletes. I understand that the entry fee is non-refundable and non-transferable. SecureFee™ Registration Cancellation Insurance is offered in most states. If purchased, your registration may be covered for one of the covered reasons stated in the policy.