Event Closed
The event director has closed online registration for this event. You may still register tomorrow morning at the event location before 7:50am.
Event Information
About This Run
The race is conducted by the Mira Costa Track and Cross Country teams. Proceeds from the run go back to the team. The race is named after former Director of the Department of Beaches Dick Fitzerald who helped start the International Surf Festival.
Location
North Side of Hermosa Beach Pier

The race starts and finishes at the Hermosa Beach Pier. Runners will run north behind the lifeguard towers past the Longfellow tower around the turn-around marker and then proceed back to the pier along the hard packed sand by the water.

This fun race is very challenging because of the soft sand on the first half of the race and the hard pack run on the return trip. The gentle sea breeze is a welcome relief to the runners . This is a great way to get some exercise and participate in one of the first events of the Surf Festival.
Divisions
Men and Women, Boys & Girls: 10 & Under, 11-14, 15-19, 20-29, 30-39, 40-49, 50-59, 60-69 and 70 & over.
T-Shirts
Sizes: S, M, L, & XL, guaranteed to all pre-registered runners (indicate size on form).
A limited number of shirts will be available for race day registration – first come, first served.
Awards
Medals to the 1st - 3rd place in each division
Course Maps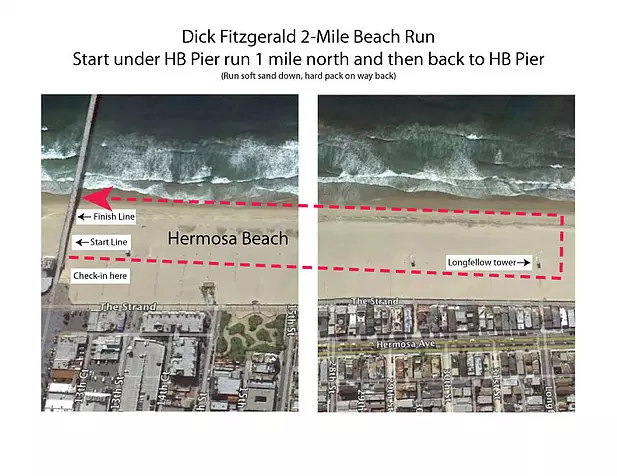 RELEASE OF LIABILITY -- READ BEFORE SIGNING

In consideration of being allowed to participate in any way in the International Surf Festival, its related events and activities, I, the undersigned, acknowledge, appreciate, and agree that:

1. The risk of injury from the activities involved in this program is significant, including the potential for permanent paralysis and death, and while particular skills, equipment, and personal discipline may reduce this risk, the risk of serious injury does exist; and,

2. I KNOWINGLY AND FREELY ASSUME ALL SUCH RISKS, both known and unknown, EVEN IF ARISING FROM THE NEGLIGENCE OF THE RELEASEES or others, and assume full responsibility for my participation; and,

3. I willingly agree to comply with the stated and customary terms and conditions for participation. If, however, I observe any unusual significant hazard during my presence or participation, I will remove myself from participation and bring such to the attention of an International Surf Festival representative immediately; and,

4. I, for myself and on behalf of my heirs, assigns, personal representatives and next of kin, HEREBY RELEASE, INDEMNIFY, AND HOLD HARMLESS THE International Surf Festival, their officers, officials, agents and/or employees, other participants, sponsoring agencies, sponsors, advertisers, and, if applicable, owners and lessors of premises used for the activity ("Releasees"), WITH RESPECT TO ANY AND ALL INJURY, DISABILITY, DEATH, or loss or damage to person or property associated with my presence or participation, WHETHER ARISING FROM THE NEGLIGENCE OF THE RELEASEES OR OTHERWISE, to the fullest extent permitted by law.

I HAVE READ THIS RELEASE OF LIABILITY AND ASSUMPTION OF RISK AGREEMENT , FULLY UNDERSTAND ITS TERMS, UNDERSTAND THAT I HAVE GIVEN UP SUBSTANTIAL RIGHTS BY SIGNING IT, AND SIGN IT FREELY AND VOLUNTARILY WITHOUT ANY INDUCEMENT.

x PARTICIPANT SIGNATURE Age:
Date Signed:

FOR PARENTS/GUARDIANS OF PARTICIPANTS OF MINORITY AGE (UNDER AGE 18 AT TIME OF REGISTRATION)

This is to certify that I, as parent/guardian with legal responsibility for this participant, do consent and agree to his/her release as provided above of all the Releasees, and, for myself, my child and our heirs, assigns, and next of kin, I release and agree to indemnify and hold harmless the Releasees from any and all liabilities incident to my minor child's involvement or participation in the International Surf Festival as provided above, EVEN IF ARISING FROM THE NEGLIGENCE OF THE RELEASEES, to the fullest extent permitted by law.

x Date Signed: PARENT/GUARDIAN'S SIGNATURE (print name) SecureFee™ Registration Cancellation Insurance is offered in most states. If purchased, your registration may be covered for one of the covered reasons stated in the policy.