Event Closed
The event administrator has closed online registration for this event.
Event Information
Event Overview
The Estabrook PTO is proud to sponsor its 13th annual Run of the Mill! On Sunday, May 22, all families and friends of Estabrook School are invited to join in this healthy, fun and exciting community event.

To kick off the day, we will hold the Jim Banks Kids Fun Run at 9:30AM. The main event, the 5K Run/Walk, will start at 10AM. (The Kids Fun Run does not require registration.)

Starting at Estabrook, the winding, hilly 5K course takes runners and walkers through the beautiful Turning Mill neighborhood, finishing back at the school. After the race, participants and spectators are invited to join in the post-race party. Proceeds from the race will benefit the Estabrook Elementary School.

Registration fee is $35 for the 5K if registered by Saturday, May 21.
Registration fee is $40 for the 5K on race day, Sunday, May 22.

Parking
There will be limited event parking in the school parking lot. Additional street parking will be available in the neighborhoods surrounding the school. We will have police detail directing cars starting at 8:30AM.
Directions to Estabrook School
Follow this link for directions to Estabrook School: http://lps.lexingtonma.org/Page/229
Post Race Party
Immediately following the 5K, there will be a post race party for all runners and spectators to enjoy. We will have food, drink and fun for the kids.
Bib/Number Pick-up
Bib pick-up will be available on Saturday, May 21 at a time and place TBD. (We will notify all registrants once determined.) Pick-up will also be available Sunday, May 22 beginning at 8:30 AM before the start of the race.
Timing Chips
Every participant must wear their numbered bib because it will contain the timing chip. Every participant's time will be recorded with the aid of the chip that is in the bib. The bib will be included in your registration packet. You must wear the bib to be timed and scored.
Course Map
The Estabrook Run of the Mill course begins and ends at the Estabrook School and is USATF sanctioned. Follow this link for the course map: https://drive.google.com/file/d/1zlUX3-PaSDQid9FL0Nl8XnAKlYJDFoUK/view?usp=sharing
T-Shirts
T-Shirts will be available for the first 100 entrants. Please specify size on the registration form. Please indicate if you do not want a shirt.
Rules for Kids 10 and Under
Kids 10 and under running the 5K course must be accompanied by an adult. The parent or guardian of that runner must sign a waiver.
Course Maps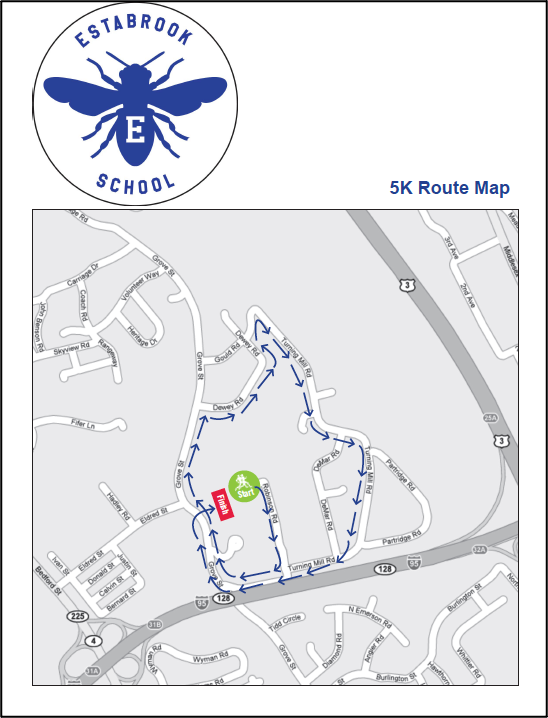 There are significant elements of risk in any sport or activity associated with running and walking, including this Estabrook PTO Run of the Mill ("the Activity") and related activities that are incident thereto. I acknowledge that the following describes some, but not all, of the risks of participating in this Activity: inclement weather, lightning, extremes of wind, weather and temperature; heat and sun-related injuries or illnesses including sunburn, sunstroke and dehydration; fatigue, chill and dizziness, which may diminish reaction time and increase the risk of an accident, falls, contact with other participants, traffic and road conditions. I am aware that the Activity entails risk of injury or death. I understand the description of these risks is not complete and that unknown or unanticipated risks may result in injury, illness or death as a result of participation in the Activity. I hereby knowingly and freely assume all such risks, both known and unknown, including full responsibility for and risk of bodily injury, death or property damage as a result of my participation in the Activity, even if the injury, death or property damage is caused, in whole or in part, by the negligence of the Estabrook PTO/Run of the Mill, and any or all of its owners, officers, directors, agents, subsidiaries, committees, volunteers, boards and employees ("the Releasees"). I verify that I am sufficiently fit, trained, qualified, and capable to participate in the Activity. I assume full responsibility, for myself and any minor children for whom I am responsible, for any bodily injury, accident, illness, death, loss of personal property and expenses related thereto as a result of any accident which may occur while I participate in the Activity. I assume the risks of personal injury, accidents and/or illness including but not limited to sprains, torn muscles and/or ligaments, fractured or broken bones, eye damage, cuts, wounds, scrapes, abrasions, contusions, dehydration, oxygen shortage, heart attack, exposure, head, neck and spinal injuries, insect or animal bites, allergic reaction, shock, paralysis or death. I, the participant or parent/guardian of the participant, for myself, my heirs, representatives, assigns, and next of kin, in consideration for registration and participation in the Activity, do fully and forever release, waive, discharge, hold harmless, and covenant not to sue the Releasees from all liability to the participant, his/her personal representatives, assigns, heirs, and next of kin for death, personal injury, or property damages and from any and all claims, demands, suits, loss and causes of action on account of death, personal injury, or property damages suffered or sustained by me or any person or property as a result of or arising out of my participation in the Activity, whether arising from the negligence of the Releasees or otherwise, to the fullest extent permitted by law. By accepting, I acknowledge that I have read this release of liability and assumption of risk agreement, fully understand its terms, understand that I have given up substantial rights by signing it and sign it freely and voluntarily without any inducement. All fees are non-refundable. No minor under the age of 10 shall be left unattended during this event. SecureFee™ Registration Cancellation Insurance is offered in most states. If purchased, your registration may be covered for one of the covered reasons stated in the policy.