Event Closed
The event administrator has closed online registration for this event.
Check out these other awesome events by the same organizer!
Event Information
Charles River YMCA Annual July 4th Road Race
This 5K Road Race is a Needham staple for the 4th of July holiday. This year the Race will take place on Monday July 4th and begin at 8:30am. Registration fee is $30 for April and May registrations, $35 for June registrations and $40 for registrations received in July. Online registration will close on Sunday, July 3rd at 12pm. The first 400 registrants will receive a limited edition t-shirt and those who register by May 31st will be included in our "21 Days to a 5K" Group.
Registration Info
DUE TO REQUESTS, WE WILL ALLOW RESISTRATIONS BEFORE THE RACE BEGINNING AT 7:15AM. FEE IS $40 AND CASH OR CHECKS ARE GREATLY APPRECIATED. DAY-OF REGISTRATION WILL END PROMPTLY AT 8:10am.


* Virtual Running is back! *
Can't run the 2022 Independence Day 5K? Live too far away, out of town, injured or ill, time or event conflict? You can register as a Virtual Runner!
If you're 1 of the first 400 registered runners, you will still receive our t-shirt!
USATF Certified Course!
_
Pre-Registration Bib, T-Shirt, and Packet Pick-Up
Early T-Shirt, Bib and Race Info Packet pick-up is available at our Chestnut St. Fitness Center (380 Chestnut St. Needham, MA 02492) on Thursday June 30th 5-7pm and Saturday July 2nd from 1-3pm.
*Only for those who have already registered online*
Course Maps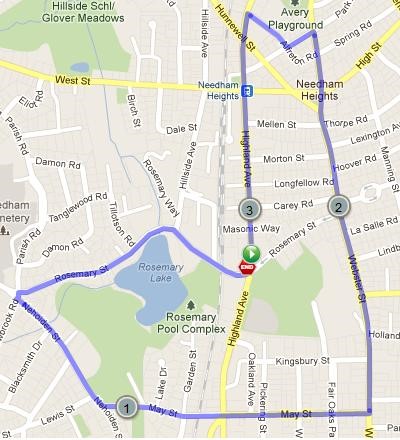 RELEASE AND WAIVER OF LIABILITY AND INDEMNITY AGREEMENT In consideration for being permitted to utilize the facilities, services, and programs of the YMCA of Greater Boston ("YMCA") for any purpose, including but not limited to observation or use of facilities or equipment, or participation in any program affiliated with the YMCA, without respect to location, the undersigned, for himself or herself and any personal representatives, heirs, and next of kin, hereby acknowledges, agrees and represents that he or she has, or immediately upon entering or participating will inspect and carefully consider such premises and facilities or the affiliated program. It is further warranted that such entry into the YMCA for observation or use of any facilities or equipment or participation in such affiliated program constitutes an acknowledgement that such premises and all facilities and equipment thereon and such affiliated programs have been inspected and carefully considered and that the undersigned finds and accepts same as being safe and reasonably suited for the purpose of such observation, use, or participation. IN FURTHER CONSIDERATION OF BEING PERMITTED TO ENTER THE YMCA FOR ANY PURPOSE, INCLUDING BUT NOT LIMITED TO OBSERVATION OR USE OF FACILITIES OR EQUIPMENT, OR PARTICIPATION IN ANY PROGRAM AFFILIATED WITH THE YMCA, WITHOUT RESPECT TO LOCATION, THE UNDERSIGNED HEREBY AGREES TO THE FOLLOWING: 1. THE UNDERSIGNED HEREBY RELEASES, WAIVES, DISCHARGES AND COVENANTS NOT TO SUE the YMCA, its directors, officers, employees, and agents (hereinafter referred to as "releasees") from all liability to the undersigned, his personal representatives, assigns, heirs, and next of kin for any loss or damage, and any claim or demands therefor on account of injury to the person or property or resulting in death of the undersigned, whether caused by the negligence of the releasees or otherwise while the undersigned is in, upon, or about the premises or any facilities or equipment therein, or participating in any program affiliated with the YMCA, without respect to location. 2. THE UNDERSIGNED HEREBY AGREES TO INDEMNIFY AND SAVE AND HOLD HARMLESS the releasees and each of them from any loss, liability, damage, or cost they may incur due to the presence of the undersigned in, upon, or about the YMCA premises or in any way observing or using any facilities or equipment of the YMCA or participating in any program affiliated with the YMCA whether caused by the negligence of the releasees or otherwise. 3. THE UNDERSIGNED HEREBY ASSUMES FULL RESPONSIBILITY FOR AND RISK OF BODILY INJURY, DEATH, OR PROPERTY DAMAGE due to negligence of releasees or otherwise while in, about, or upon the premises of the YMCA and/or while using the premises or any facilities or equipment thereon or participating in any program affiliated with the YMCA. THE UNDERSIGNED further expressly agrees that the forgoing RELEASE, WAIVER AND INDEMNITY AGREEMENT is intended to be as broad and inclusive as is permitted by the law of the Commonwealth of Massachusetts and that if any portion thereof is held invalid, it is agreed that the balance shall, notwithstanding, continue in full legal force and effect. THE UNDERSIGNED HAS READ AND VOLUNTARILY SIGNS THE RELEASE AND WAIVER OF LIABILITY AND INDEMNITYAGREEMENT, and further agrees that no oral representations, statements, or inducement apart from the foregoing written agreement have been made. THE UNDERSIGNED grants consent and authorizes the use of photographs, slides, videotapes and film of any child participating in YMCA activities for commercial and art purposes in any medium of advertising, communication, publication or publicity that will promote YMCA programs and services, and/or recognition of participants. SecureFee™ Registration Cancellation Insurance is offered in most states. If purchased, your registration may be covered for one of the covered reasons stated in the policy.