Event Closed
The event administrator has closed online registration for this event. We will not be allowing day of registration at this time but hope you see you for 2024!
Event Information
Details
About the Race
Spectators can view runners at the beginning of the race and at the finish! This will be considered a challenging, yet fun due to the hilly nature of the course. Earn bragging rights once you complete the race for "running up Saddleback Mountain" - this is NOT on pavement and will be on a packed dirt road

Registration Location: The registration area is located in side of the MAIN BASE LODGE. There is plenty of free parking.
Bib// Packet pick up will be on race day beginning at 8:30am
Race begins at 10:00AM.
Registration Fee $40

AWARDS
Top 3 male/female finishers will receive prizes.

No dogs allowed / No Morning of Registration
Course Maps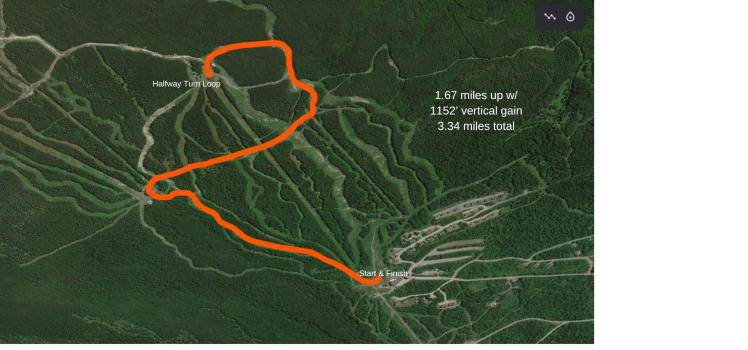 RELEASE OF LIABILITY PLEASE READ CAREFULLY, THIS IS A LEGAL DOCUMENT In consideration of ARCTARIS SADDLEBACK SKI OPERATIONS, LLC, furnishing services and/or equipment to enable me to participate in activity associated with Arctaris Saddleback Ski Operations, LLC. I agree as follows: I fully understand and acknowledge that outdoor recreational activities have: (a) inherent risks, dangers, and hazards and such exists in my use of whitewater equipment and my participation in whitewater activities; (b) my participation in such activities and or/ use of such equipment may result in injury or illness including, but not limited to bodily injury, disease, strains, fractures, partial and/or total paralysis, death or other ailments that cause serious disability; (c) these risks and dangers may be caused by the negligence of the owners, employees, officers, sub-contractors, or agents of Arctaris Saddleback Ski Operations, LLC the negligence of the participants, the negligence of others, accidents, breaches of contract, the forces of nature or other causes. Risks and dangers may arise from foreseeable or unforeseeable causes including dangers that are integral to recreational activities that take place in a wilderness, outdoor, or recreational environment; and (d) by my participation in these activities and/or use of equipment, I hereby assume all risks and dangers and all responsibility for any losses and/or damages whether caused in whole or in part by the negligence or other conduct of the owners, agents, officers, sub-contractors, or employees of Arctaris Saddleback Ski Operations, LLC or by any other person. I, on behalf of myself, my personal representatives, and my heirs hereby voluntarily agree to release, waive, discharge, hold harmless, defend, and indemnify Arctaris Saddleback Ski Operations, LLC and their owners, agents, officers, sub-contractors, and employees from any and all claims, actions or losses for bodily injury, property damage, wrongful death, loss of services, or otherwise which may arise out of my use of Arctaris Saddleback Ski Operations, LLC equipment or my participation in any Arctaris Saddleback Ski Operations, LLC activities. To the extent that I am signing this document on behalf of any minor, I represent and guarantee that I have full authority to do so, realizing the full binding effect of this contract on them, as well as on myself. I further agree to indemnify and hold harmless the Releasees for any claims, brought on behalf of the minor relating to any damages allegedly sustained by the minor while he/she was in these clinics, and for all awards, legal fees and expenses and settlements, including attorney's fees, that result from such claim. The Venue of any dispute that may arise out of this agreement or otherwise between the parties to Arctaris Saddleback Ski Operations, LLC or its agents as party shall be the State of Federal Court in the State of Maine and no other jurisdiction, and shall be governed by the laws of the state. I specifically understand that I am releasing, discharging, and waiving any claims or actions that I may have presently or in the future for the negligent acts or other conduct by the owners, agents, sub-contractors, officers, or employees or Arctaris Saddleback Ski Operations, LLC and the other Releasees. I hear by allow Arctaris Saddleback Ski Operations, LLC and any other person to take my picture or video for possible promotional usage in brochures, websites, and any other use. I have read the above wavier and release and by signing it agree. It is my intention to exempt and relieve Arctaris Saddleback Ski Operations, LLC from liability for personal injury, property damage, or wrongful death caused by negligence or any other cause. I also release all rights to Arctaris Saddleback Ski Operations, LLC to reproduce and use in any means photos or video taken in conjunction with trip or program activities. SecureFee™ Registration Cancellation Insurance is offered in most states. If purchased, your registration may be covered for one of the covered reasons stated in the policy.