Event Closed
The event director has closed online registration for this event.
Event Information
About this event
The 5th annual Rolling Hills 5k+ Run/Walk will take place on Saturday, April 30th at 9:00 a.m. in Avon, CT. Registration opens at 8:00 a.m.

The course, as the name alludes, is an up-and-down paved path though the neighborhoods of Avon. The Rolling Hills 5k+ is a family and pet friendly with ample watering stations for people and pups alike! To celebrate the 5th year of this race there will be special commemorative Finisher Medals as well as trophies award to overall finishers, and the first pet to finish!

All proceeds from the event go to support the St. Matthew High School Youth Group as they head to Romania this summer to lead a Vacation Bible School for orphan & at-risk youth.

All are invited, both two legged and four! A kids games area with bouncy house will be provided plus post race refreshments.
Course Maps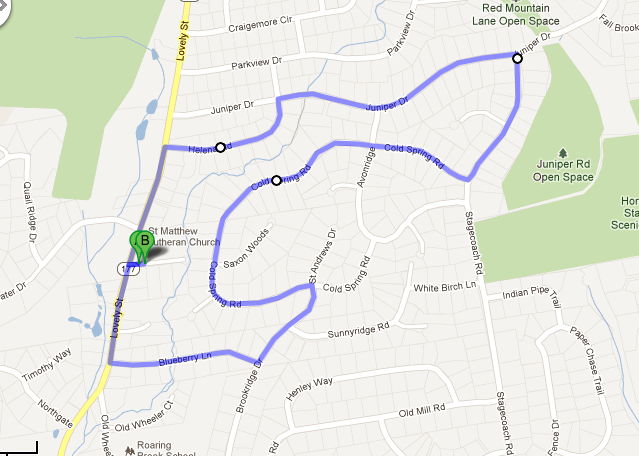 I know that running/walking is a potentially hazardous activity. I should not enter and run/walk unless I am medically able and properly trained. I agree to abide by any decision of a race official relative to my ability to safely complete the run/walk. I hereby certify that I am in good health and I have trained to run/walk the distance of the race, which I am entering. I assume all risks associated within running/walking in the event including, but not limited to: falls, contact with other participants, the effects of the weather, including heat and/or humidity, traffic, and the condition of the road, all such risks being known and appreciated by me. Having read this waiver and knowing these facts and in behalf, waive and release St. Matthew Lutheran Church, it's officers, clergy, employees, and volunteers, all sponsors their representatives and successors, from all claims or liabilities of any kind arising out of my participation in this event even though that liability may arise out of negligence or carelessness on the part of the persons named in this waiver. I grant permission to all the foregoing to use any photographs, motion pictures, recording, or any other record of this event for any legitimate purpose.