Event Closed
The event director has closed online registration for this event.
Event Information
About This Event
The 1st annual 5k fun run/walk, CLARK RUNS WITH COLUMBUS PARK, takes place at Clark University in Worcester, MA. It will begin on Atwood Plaza, run past the Columbus Park Preparatory Academy and finish back on the Clark Campus. There will be a 1-mile kids dash prior to the race on the Campus Green. Come out and support the kids. All proceeds will be donated to the Columbus Park Playground Initiative.
Event Details & Schedule
Adult Pre-registration fee $20
Clark Student registration fee w/o shirt $10 (w/shirt $15)
Race day registration fee $25 (cash or check only)
1 Mile Kids Dash FREE
Mail in registrations make checks payable to:
Clark University
Attn: University Police
950 Main Street
Worcester, MA 01601

Parking
Off street parking is permitted in any Clark University Lot and the commuter section of the parking garage (entrance located on Downing Street).
Course Maps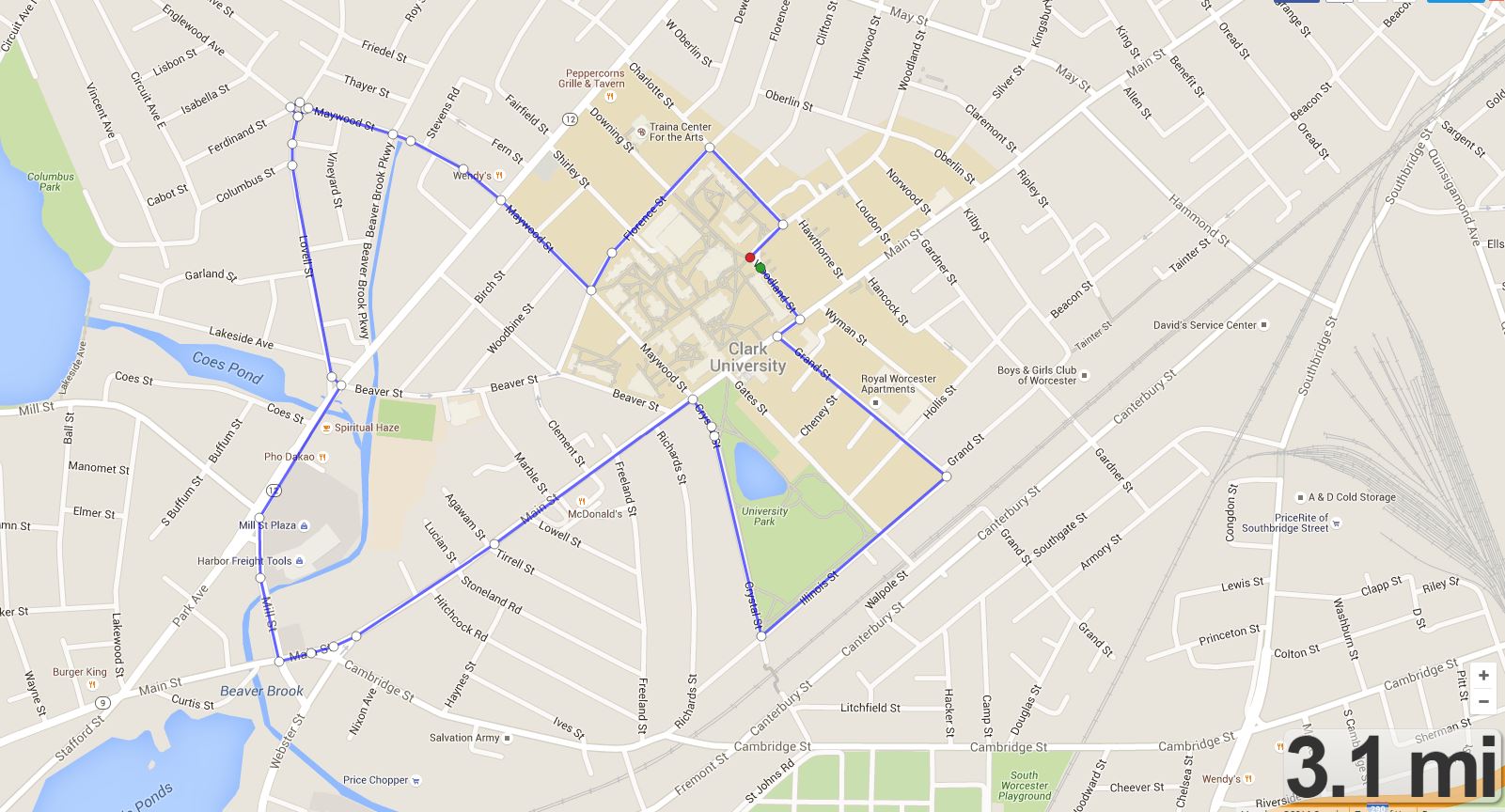 I hereby acknowledge that I voluntarily and freely elect to participate in the "Clark University Runs with Columbus Park Run and Walk" (Event). I understand and agree that Clark University and/or its representatives, sponsors, coordinating groups and any individuals associated with the Event assume no liability in the event of accident or illness, nor for damage or injury to person or property of any nature whatsoever from my participation in this Event. I acknowledge that I am aware of the possible risks, dangers, and hazards associated with my participation in the Event, including the possible risk of severe or fatal injury. In participating in this Program, I voluntarily and freely assume all risk of accident, injury, or illness and damage to/loss of property. I, for myself, my heirs, personal representatives or assigns, do hereby release, waive, discharge, and covenant not to sue the event organizers, individuals associated with the event, sponsors, coordinating groups ,Clark University, its trustees, officers, employees students, and agents and indemnify them from liability for any and all claims resulting from personal injury, accidents or illnesses (including death), and property damage or destruction arising from, but not limited to, participation in the Event Further, I hereby grant full permission to any and all of the foregoing to use my likeness in all media including photographs, pictures, recordings or any other record of this event for any legitimate purpose. Race management reserves the right to postpone or cancel the event due to events out of management's control such as weather, natural disasters or other emergencies. No refunds will be issued under these circumstances. Management may also alter the course and distances for the safety of the athletes. I understand that the entry fee is non-refundable and non-transferable.