Event Closed
Online registration is closed. You can still register either on Thursday, June 9 from 4 until 7PM at the Medusa Brew-house in Hudson, or on race day at the race location.
Event Information
Registration Packet Pickup Event
Pick up your registration materials before the race. Event will be Thursday, June 9th, from 4PM until 7 PM at the Medusa Brewing Company, 111 Main Street in Hudson. (http://www.medusabrewing.com/)

Come join us, pick up your bib and t-shirt, and stick around and enjoy the pub room.

If you cannot make it, registration materials will be available at the race on race day starting at 7 AM.
Event Description
A run & walk for community pride supporting scholarships for the Class of 2016
Event Details
June 11th is the date. Houghton St in Hudson is the place. Join us for a great time at the Spirit of Hudson 5 kilometer road race - running along the beautiful Assabet Rail Trail and celebrating Hudson's 150th anniversary. There is also a 1.5 mile race for walkers. And for the little ones (ages 2 through 6) there is the famous 26.2 yard Mighty Mite Marathon.

Proceeds of the race will benefit the Elks Scholarship Fund, which provides educational stipends to college bound students at local area high schools.

When the race is over, you can participate in Hudson's Annual Community Festival, which features of sidewalk sales and family entertainment from a wide variety of local vendors.

Please note: In the event of an unforeseen cancellation or reschedule, 100% of any fees from runners who cannot participate will be donated to local charities. There will be no refunds.

Highland City Striders is a registered public charity organization pursuant to 501 (c)3.

Custom Bibs This Year !!!!!
Note: This year we are offering beautiful custom bibs. Register by May 11 to ensure your bib has your name in it.
Course Maps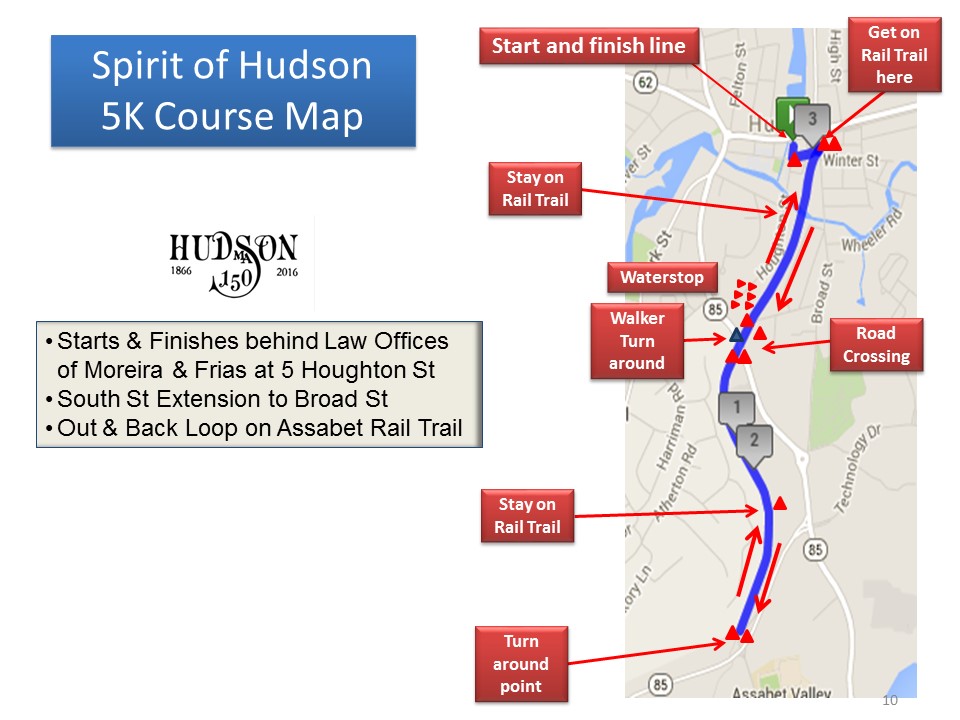 Please enter me in the Spirit of Hudson 5K road race. I agree to assume all responsibility for all risk of damage or injury to me and/or my child under 18 as a participant in this event. In consideration of being accepted as an entrant, I hereby, for myself, my heirs, executors and administrators, release and discharge the RRCA, the Highland City Striders, the Hudson Elks Club, the Town of Hudson, and any and all other individuals, entities, and organizations associated with the race from all claims, damages, rights of action, present or future, whether the same be known, anticipated, or unanticipated, resulting from or arising out of, or in incident to, my participation in this event. I hereby certify that I will not participate in the Spirit of Hudson 5K Road Race unless I am physically fit and sufficiently trained for competition in the race. I also grant permission for the use of my name and or picture in any broadcast, photograph, or other account of this race. I understand that bicycles, skateboards, baby joggers, or strollers, roller skates, or blades, animals, and radio headsets are not allowed in the race and I abide by this guideline.