Event Closed
The event director has closed online registration for this event.
Event Information
Race Day Registration and Check-In
Online sign up is CLOSED, but you can still register in person!

Early registration and check-in for all participants will be available Friday, October 14, from 4:30 pm to 6:30 pm. We recommend checking in on Friday evening due to the volume expected the morning of the race.

On race day, registration and check-in will open at 7:30 am and close at 8:45 am. The race will start promptly at 9:00 am.
Run or Walk to Make a Difference
Every step you take during the 5k run or two-mile walk helps benefit the endangered African penguin. Every dollar that you raise helps Mystic Aquarium fulfill their mission!

When you register, start your own fundraising page. Top fundraisers receive unique prizes!
T-Shirts
This year's shirt can be purchased for $20, during early registration Friday evening and on race day.
Group Discount
You can sign up with or family or as a group! When Registering multiple participants, begin by entering your first participant, then you will have the option to "Add Additional Participant". (Please provide the full name, birth date and contact information for each individual)

Receive a $7 per person discount when you sign up with 10 or more runners and walkers. The discount will appear automatically.
Course Maps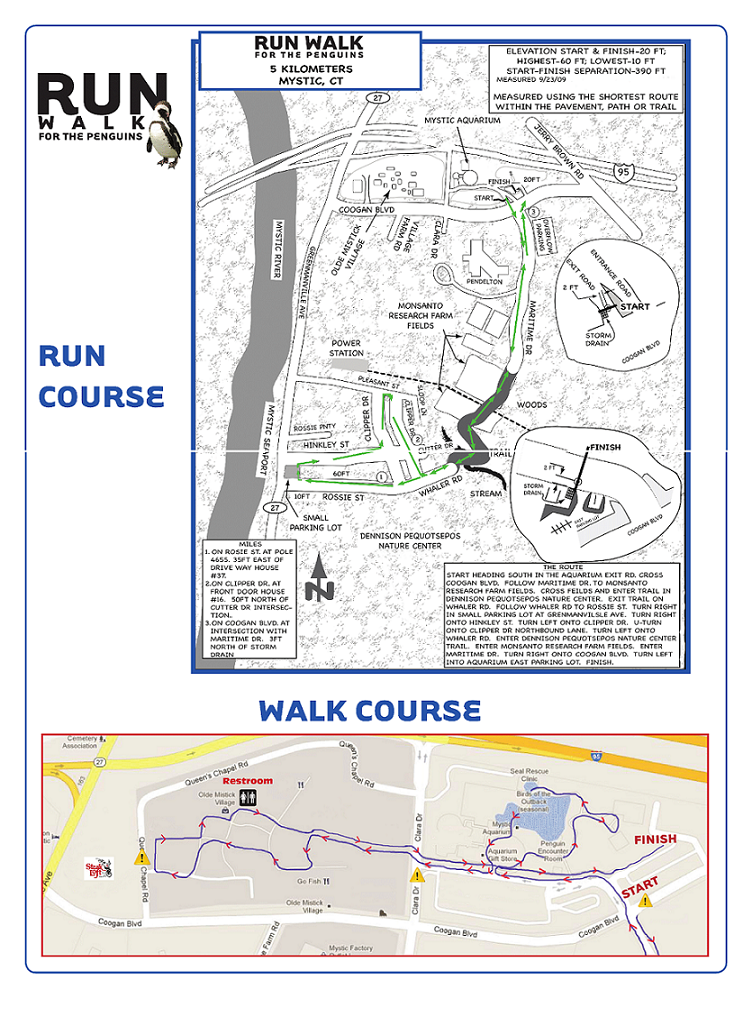 All entries must be signed by the athlete (parent or guardian of athletes under 18) in agreement of the following: I hereby release Mystic Aquarium, Ocean Exploration Center, and Ocean Blue Catering, the sponsors and the officials of the Run for the Penguins 5K, Walk and Kid's race to be held on October 15, 2016 from all damages or injuries incurred during or arising out of the above participation of the individual named above in this event. I further agree that the above and its nominees and assigns may use, in their sole discretion, the likeness and / or photography taken of me or any reproduction thereof, in any form, style or color, together with any writing and other advertising material, in connection therewith, including television and including, but not limited to, the use of my name and / or quotations. This consent and release is given without limitation upon, or liability for, any use for advertising, illustration, publication, broadcast of every kind, or in trade or media, or for any purpose for promotion by Mystic Aquarium and its nominees. I further agree that such photography and / or likeness, and the film, tape, plates, and negatives thereof, shall be and remain the exclusive property of Mystic Aquarium. I further waive any right to inspect or approve the commercial, advertising or publicity material. I also certify that the individual named above am in sufficient physical condition to participate in this event.