Event Closed
The event director has closed online registration for this event.
Event Information
About This Event
This is our inaugural Super Warrior 5K. We encourage family and friends to participate and dress up as their favorite "Warrior" or Super Hero.

The Super Warrior 5K, is hosted by Stripes of a Warrior, a local 501(c)(3) nonprofit that originated in Anaheim, California. It will be held on January 21st 2017 at Yorba Regional Park in Anaheim Hills. Our mission is to help cancer Warriors FIGHT cancer financially. We provide financial assistance to those that have been diagnosed with cancer and are unable to afford their medical bills, housing, medication, or food expenses, etc.
Kids
Kids 5 years old and under are free, but are not eligible for finisher medal or registration packet.

Any kids over the age of 5 will need to be registered.
Course
The run will start and finish between Shelter 4 and 5 inside the Park.
Awards
All Finishers will receive a medal

Awards will be given to:
-Top 3 Female Finishers
-Top 3 Male Finishers
-Top 3 Finishers 12 and under
-Best costume
Race Packet Pick-up
A bag including your t-shirt, Bib number, and additional goodies is given to each registrant at day of packet pick up.

Packet Pick up is Thursday January 19th from 12pm-8pm, located at Lamppost Pizza. If you are unable to attend the pre-race pick-up then you can check-in and receive your bib and bag at the race between 7am-8:45am.

17568 Yorba Linda Blvd
Yorba Linda, CA 92886
Raffle and Silent Auction
At Lamppost we will also be having a Raffle and Silent Auction. Tickets for the raffle are $1 each and is ONLY open at the packet pick-up on Thursday and the winners will be displayed at the Raffle/Silent Auction Tent before and after the race, please check our board to see if you won. The Silent Auction bidding will continue to be open until the race STARTS. If you win an item in the Silent Auction we will ask you to pay after the race is over. Again please check to see if you won after the race is over. Winners will NOT be announced over the speaker system.
Post Race
After the race join us for a Vendor/Sponsor Fair and enjoy getting to know our community and Charity at the open field located by the Start and Finish line.
Parking
Parking will be available at Shelters 2, 3, 4, and 5. Parking cost is $3. Parking is also available on the street.
T-Shirts
T-Shirts are from sizes SMALL to XXL, shirts are unisex.
Course Maps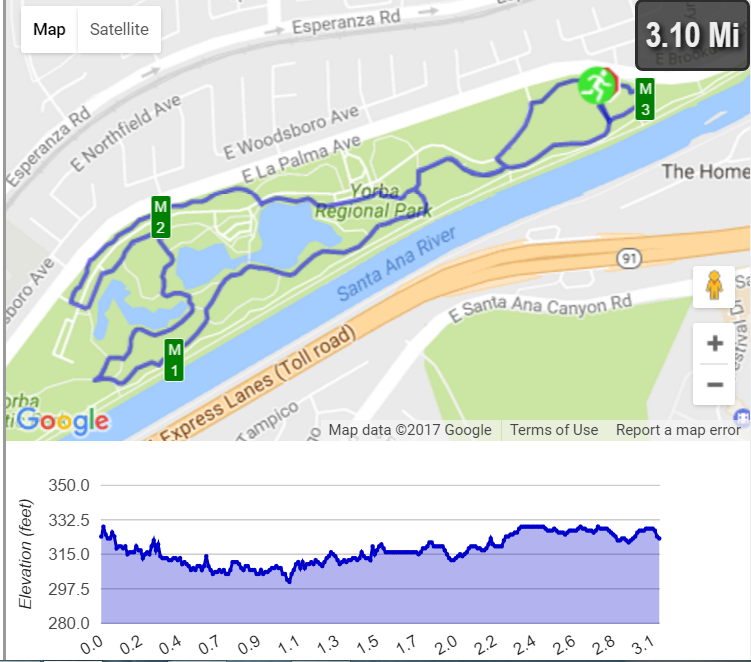 Team Registration Style
Please select a method of registration below:
Join a Team: Pick from a list of team names on the next page and join your team.
Create a Team: Once you create a team, participants can join your team under the "join a team" option above.
Individual Registration: Register as an individual participant.
ACCIDENT WAIVER AND RELEASE OF LIABILITY FORM Name of the Event: Super Warrior 5K Date: January 21st, 2017. I HEREBY ASSUME ALL OF THE RISKS OF PARTICIPATING AND/OR VOLUNTEERING IN THIS ACTIVITY OR EVENT, including by way of example and not limitation, any risks that may arise from negligence or carelessness on the part of the persons or entities being released, from dangerous or defective equipment or property owned, maintained, or controlled by them, or because of their possible liability without fault. I certify that I am physically fit, have sufficiently prepared or trained for participation in the activity or event, and have not been advised to not participate by a qualified medical professional. I certify that there are no health-related reasons or problems which preclude my participation in this activity or event. I acknowledge that this Accident Waiver and Release of Liability Form will be used by the event holders, sponsors, and organizers of the activity or event in which I may participate, and that it will govern my actions and responsibilities at said activity or event. In consideration of my application and permitting me to participate in this event, I hereby take action for myself, my executors, administrators, heirs, next of kin, successors, and assigns as follows: (A) I WAIVE, RELEASE, AND DISCHARGE from any and all liability, including but not limited to, liability arising from the negligence or fault of the entities or persons released, for my death, disability, personal injury, property damage, property theft, or actions of any kind which may hereafter occur to me including my traveling to and from this event, THE FOLLOWING ENTITIES OR PERSONS: Stripes of a Warrior, Yorba Regional Park, and/or their directors, officers, employees, volunteers, representatives, and agents, the activity or event holders, activity or event sponsors, activity or event volunteers; (B) I INDEMNIFY, HOLD HARMLESS, AND PROMISE NOT TO SUE the entities or persons mentioned in this paragraph from any and all liabilities or claims made as a result of participation in this activity or event, whether caused by the negligence of release or otherwise. I acknowledge that Stripes of a Warrior and the Super Warrior 5K and their directors, officers, volunteers, representatives, and agents are NOT responsible for the errors, omissions, acts, or failures to act of any party or entity I hereby consent to receive medical treatment which may be deemed advisable in the event of injury, accident, and/or illness during this activity or event. I understand that at this event or related activities, I may be photographed. I agree to allow my photo, video, or film likeness to be used for any legitimate purpose by the event holders, producers, sponsors, organizers, and assigns. The accident waiver and release of liability shall be construed broadly to provide a release and waiver to the maximum extent permissible under applicable law. I CERTIFY THAT I HAVE READ THIS DOCUMENT, AND I FULLY UNDERSTAND ITS CONTENT. I AM AWARE THAT THIS IS A RELEASE OF LIABILITY AND A CONTRACT AND I SIGN IT OF MY OWN FREE WILL. PARENT / GUARDIAN WAIVER FOR MINORS (Under 18 years old) The undersigned parent and natural guardian does hereby represent that he/she is, in fact, acting in such capacity, has consented to his/her child or ward's participation in the activity or event, and has agreed individually and on behalf of the child or ward, to the terms of the accident waiver and release of liability set forth above. The undersigned parent or guardian further agrees to save and hold harmless and indemnify each and all of the parties referred to above from all liability, loss, cost, claim, or damage whatsoever which may be imposed upon said parties because of any defect in or lack of such capacity to so act and release said parties on behalf of the minor and the parents or legal guardian. SecureFee™ Registration Cancellation Insurance is offered in most states. If purchased, your registration may be covered for one of the covered reasons stated in the policy.