Event Closed
Online registration is now closed for the Torrance Armed Forces Day 5K Run/Walk, but you may still register in person the following dates and times: Friday, May 19th, Noon - 7 p.m. at the Village Runner in Redondo Beach or Saturday, May 20th, 6:30am until the start of the race at the race expo at the Del Amo Fashion Center Village Runner in Redondo Beach is located at: 1811 S. Catalina Ave., Redondo Beach, CA 90277 310-375-2626 The Race Expo is located at: Del Amo Fashion Center on Madrona Ave. between W. Carson St. & Fashion Way www.villagerunner.com
Check out these other awesome events by the same organizer!
Event Information
Fees
5K Run/Walk
$35 per entry before May 1, 2017 | $40 per entry May 1st-20th, 2017
Brief Description
Join us for the Torrance Armed Forces Day 5K Run/ Walk, in tribute to Louis Zamperini, touring around beautiful Torrance, California on Saturday, May 20th at 8:00am! All participants will receive an Armed Forces Day run t-shirt. There will be chip timing, age division awards and sponsor refreshments.
Course Maps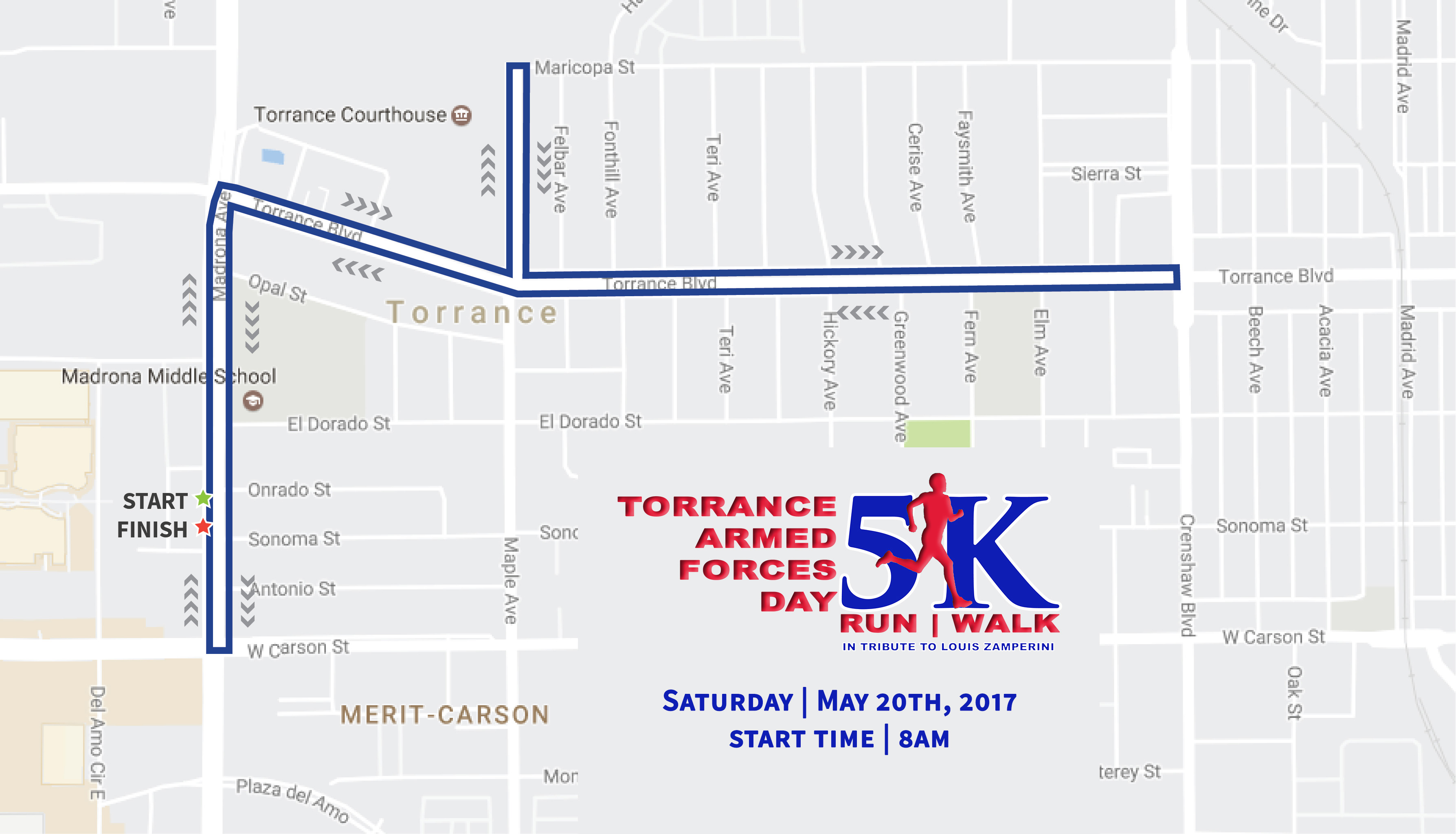 Team Registration Style
Please select a method of registration below:
Join a Team: Pick from a list of team names on the next page and join your team.
Create a Team: Once you create a team, participants can join your team under the "join a team" option above.
Individual Registration: Register as an individual participant.
WAIVER FORM: Entry without signed Waiver Form will be returned. This waiver contains limitation of your legal rights. Your Signature below means you and/or your parent/guardian has read it and agrees with the statement below: WAIVER: In consideration of my, and/or my dependent's participation in the Torrance Armed Forces Day Run, I hereby release and hold harmless the City of Torrance, TACC, Del Amo Fashion Center, Village Runner, Village Runner Racing, and all of its sponsors, their affiliates, agents, servants, employees, volunteers, assigns successors, and heirs or distribution and all officials concerned for any acts, omissions, or negligence which may result in any bodily injury (including death) and/or property, loss of damage incurred by me arising out of or in connection with my and/or my dependent's participation in this event. I warrant that I and/or my dependent are in good health and have trained sufficiently for this event. I willingly assume any risk inherent in entering this event. This waiver extends to all claims of any kind and nature whatsoever, whether known or unknown. Further, I grant permission to all of the foregoing to use any photographs, motion pictures, recordings, or any other record of this event for legitimate purposes. SecureFee™ Registration Cancellation Insurance is offered in most states. If purchased, your registration may be covered for one of the covered reasons stated in the policy.