Event Closed
The event administrator has closed online registration for this event.
Event Information
About This Event
Matt Bruce



On Saturday May 6th, 2017 the final Miles for Matt 5k Walk/Run to honor the memory of Matt Bruce will be held. Matt lost his courageous battle to ALS at the age of 26 in March of 2014. Matt\'s spirit was full of love and laughter. He taught us all to live life to the fullest, to be present in the moment and never take a single day for granted. Matt especially enjoyed hockey, fishing, hunting, the outdoors and anything that involved a good time. Not one person ever heard Matt complain throughout his battle with this terrible disease. Instead, he rocked his contagious smile and his famous \"Thumbs up\" and fulfilled every moment he had cherishing time with his family and friends. He will be forever missed.


Matt Bruce and CCALS Founder/ED Ron Hoffman take to TV to discuss navigating ALS



All proceeds from this event will benefit Compassionate Care ALS (CCALS.org). CCALS is a nonprofit organization based out of Falmouth, MA that offers individualized support to individuals living with ALS, their family members and their caregivers. Serving over 1,000 families, CCALS supports people diagnosed with ALS, their families and communities as they navigate the complexities, both physical and emotional, associated with the disease. They provide resources which can include equipment, educational workshops, Medicare/Medicaid assistance, guidance and awareness in living with ALS, caregiving, and end-of-life issues.

CCALS was created after Founder Ron Hoffman served as a fulltime caregiver for Gordon T Heald who was diagnosed with ALS in 1997. Gordon decided his legacy would be an organization to support ALS patients, caregivers and their families. In 2002, Ron founded Compassionate Care ALS, encompassing the Heald Fund, to further enhance the services offered. With CCALS, it\'s all about family.

I have personally worked with CCALS and was guided into the field of caregiving. The support offered by this organization is larger than any I have ever come across. Your participation in this event will truly bring happiness to someone who is battling ALS. On behalf of myself, The Bruce Family and Compassionate Care ALS we thank you from the bottom of our hearts for your support.
Included in this years race
Pre-Registrants are all guaranteed a T-shirt. Water, fruit and breakfast bars will be included. There will be DJ\'d music and race timing will be provided by RaceWire. Lots of fun for family, friends and everyone!
Morning of Event
Registration will be available the morning of the event beginning at 8:30 AM. Cash and checks will be accepted. The cost will be $30 for adults. Ages 13 and under $15 . Please make any checks payable to: Compassionate Care ALS. Any added donations are more than greatly appreciated!
Course Maps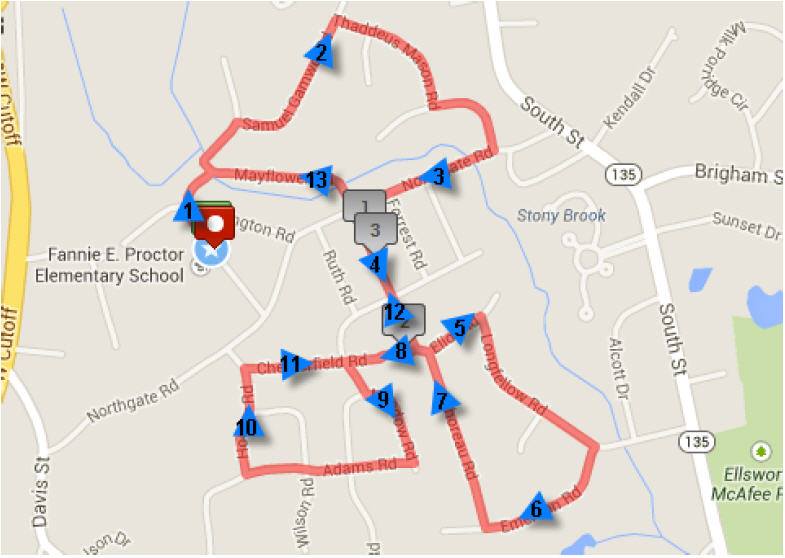 I hereby declare, assert and affirm that participation and Miles for Matt 5k Walk/Run Benefit is done having voluntarily and knowing assumed ALL RISKS involved in this Special Event. The immediate physical risks and hazards associated with normal vigorous physical activity include (but are not limited to) physical discomfort, fatigue, muscular soreness, falls, pulled or strained muscles, overuse injuries, heat stress, and the rare instance of abnormal responses of the cardio- respiratory system including heart arrhythmia, heart attack, stroke, and sudden death. In consideration of acceptance of this contract allowing my myself, my heirs, executors , administrators, and assigns, WAIVE AND RELEASE any and all rights and claims for negligence, injuries, damages, or losses that I may occur against all participating agencies involved in the above stated Special Event specifically, the Town of Northborough, Ma, Miles for Matt, for any and all activities connected with the above Special Event. I also understand that I do hereby WAIVE any and all rights or benefits under the State of Massachusetts worker's compensation laws for any injury as a result of my participation in this event, including disregard of the posted route. SecureFee™ Registration Cancellation Insurance is offered in most states. If purchased, your registration may be covered for one of the covered reasons stated in the policy.