Event Closed
The event director has closed online registration for this event.
Event Information
The Mission
Your participation in our 3rd Annual Road Race will provide support to our YMCA Annual Fund Campaign and YMCA Chronic Disease Programs, including LIVESTRONG at the YMCA and the YMCA's Diabetes Prevention Program.

LIVESTRONG at the YMCA is a physical activity and well-being program designed to help adult cancer survivors achieve their health goals. The research-based program offers people affected by cancer a safe, supportive environment to participate in physical and social activities focused on strengthening the whole person.

The YMCA's Diabetes Prevention Program helps those at high risk of developing type 2 diabetes adopt and maintain healthy lifestyles by eating healthier, increasing physical activity and losing a modest amount of weigh in order to reduce their chances of developing the disease.
New and Fun Components this Year
Dash and Splash! Runners can "dash" through our 5K course, starting at the Waltham Y, and upon their return "splash" into our outdoor pool!

Our after party will be held outdoors on our field and pavilion with music, refreshments, prizes, and a Youth Obstacle Course Run!

Race Route
We will have someone on a bicycle to lead the runners/walkers through the course, as well as volunteers along the course.
• The race will start outside the gymnasium at the Waltham YMCA.
• You will run down the hill and take a RIGHT onto Lexington St.
• At the intersection, you will then take a LEFT to cross onto Lake St.
• You will follow Lake St continue over a mile to the Hobbs Brook property, where you will take a LEFT into their parking lot.
• There will be a quick loop through the Hobbs Brook parking lot, and then exit the same direction you came in, taking a RIGHT out of the property.
• You will then proceed straight back down Lake St until you get to Lexington St, at the intersection you will cross the street and take a RIGHT.
• The last turn will be a LEFT onto YMCA property, back up the hill, finishing back at the gymnasium.

T-shirts
First 100 participants to register receive Five to Thrive 5k shirt!
Bib Pick Up
Bib pick up will be held on race day beginning at 8 am.
Race Day Registration
Race day registration is available and will begin at 8 am on July 29.
Parking
On site parking is available, but may be limited. Please plan accordingly to allot yourself enough time before the race.
RAW Race Series and Greater Boston YMCA 5k Race Series
We are happy to announce that our Five to Thrive 5k is apart of both the Race Around Waltham (RAW) Series as well as the Greater Boston YMCA 5k Series. View the links below to see other races in the series.

Greater Boston YMCA 5k Series: http://ymcaboston.org/5K

RAW Series: http://www.rawseries.org/2017-races.html


Course Maps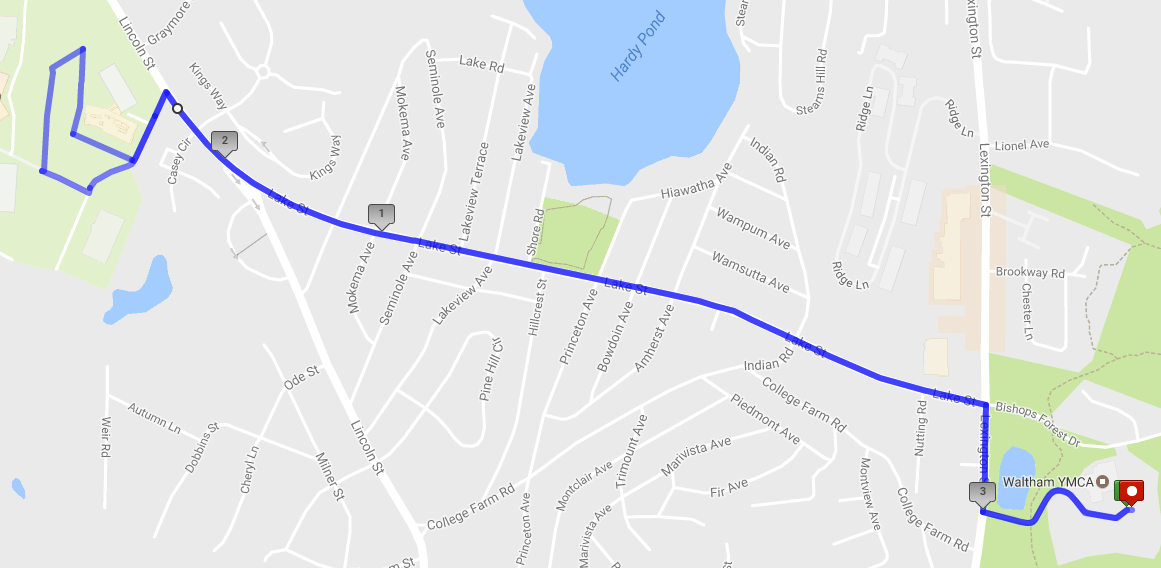 Team Registration Style
Please select a method of registration below:
Join a Team: Pick from a list of team names on the next page and join your team.
Create a Team: Once you create a team, participants can join your team under the "join a team" option above.
Individual Registration: Register as an individual participant.
YMCA of Greater Boston SPECIAL EVENTS RELEASE AND WAIVER OF LIABILITY AND INDEMNITY AGREEMENT In consideration for being permitted to utilize the facilities, services, and programs of the YMCA of Greater Boston ("YMCA") for any purpose, including but not limited to observation or use of facilities or equipment, or participation in any program affiliated with the YMCA, without respect to location, the undersigned, for himself or herself and any personal representatives, heirs, and next of kin, hereby acknowledges, agrees and represents that he or she has, or immediately upon entering or participating will inspect and carefully consider such premises and facilities or the affiliated program. It is further warranted that such entry into the YMCA for observation or use of any facilities or equipment or participation in such affiliated program constitutes an acknowledgement that such premises and all facilities and equipment thereon and such affiliated programs have been inspected and carefully considered and that the undersigned finds and accepts same as being safe and reasonably suited for the purpose of such observation, use, or participation. IN FURTHER CONSIDERATION OF BEING PERMITTED TO ENTER THE YMCA FOR ANY PURPOSE, INCLUDING BUT NOT LIMITED TO OBSERVATION OR USE OF FACILITIES OR EQUIPMENT, OR PARTICIPATION IN ANY PROGRAM AFFILIATED WITH THE YMCA, WITHOUT RESPECT TO LOCATION, THE UNDERSIGNED HEREBY AGREES TO THE FOLLOWING: 1. THE UNDERSIGNED HEREBY RELEASES, WAIVES, DISCHARGES AND COVENANTS NOT TO SUE the YMCA, its directors, officers, employees, and agents (hereinafter referred to as "releasees") from all liability to the undersigned, his personal representatives, assigns, heirs, and next of kin for any loss or damage, and any claim or demands therefor on account of injury to the person or property or resulting in death of the undersigned, whether caused by the negligence of the releasees or otherwise while the undersigned is in, upon, or about the premises or any facilities or equipment therein, or participating in any program affiliated with the YMCA, without respect to location. 2. THE UNDERSIGNED HEREBY AGREES TO INDEMNIFY AND SAVE AND HOLD HARMLESS the releasees and each of them from any loss, liability, damage, or cost they may incur due to the presence of the undersigned in, upon, or about the YMCA premises or in any way observing or using any facilities or equipment of the YMCA or participating in any program affiliated with the YMCA whether caused by the negligence of the releasees or otherwise. 3. THE UNDERSIGNED HEREBY ASSUMES FULL RESPONSIBILITY FOR AND RISK OF BODILY INJURY, DEATH, OR PROPERTY DAMAGE due to negligence of releasees or otherwise while in, about, or upon the premises of the YMCA and/or while using the premises or any facilities or equipment thereon or participating in any program affiliated with the YMCA. THE UNDERSIGNED further expressly agrees that the forgoing RELEASE, WAIVER AND INDEMNITY AGREEMENT is intended to be as broad and inclusive as is permitted by the law of the Commonwealth of Massachusetts and that if any portion thereof is held invalid, it is agreed that the balance shall, notwithstanding, continue in full legal force and effect. THE UNDERSIGNED HAS READ AND VOLUNTARILY SIGNS THE RELEASE AND WAIVER OF LIABILITY AND INDEMNITYAGREEMENT, and further agrees that no oral representations, statements, or inducement apart from the foregoing written agreement have been made. SecureFee™ Registration Cancellation Insurance is offered in most states. If purchased, your registration may be covered for one of the covered reasons stated in the policy.