Event Closed
The event administrator has closed online registration for this event.
Event Information
Event Information
Come out and Join us for a Fun evening of running and walking for Childhood Cancer Research at Hoyt Shadid Park at the Altus Reservoir on September 23 2017.

All paid registrants will receive a race packet with a T-shirt and Glow sticks. Participants who pre-register by September 1st are guaranteed a T-Shirt. Participants who register after September 1st will not get a shirt with their registration fee. You may also register the day of the Day of event. Registration & packet pick up will begin at 6:30 pm and run/walk will begin around 7:45 pm.

Additional Foundation Merchandise and extra glow ware will be available for purchase the day of the event.

All proceeds from this event will go towards Childhood Cancer research at OU Children's Hospital.

Children running or walking under 10 yrs. are free. Walking Strollers, Running Strollers, wagons and pets on a leash are welcome.

Course Maps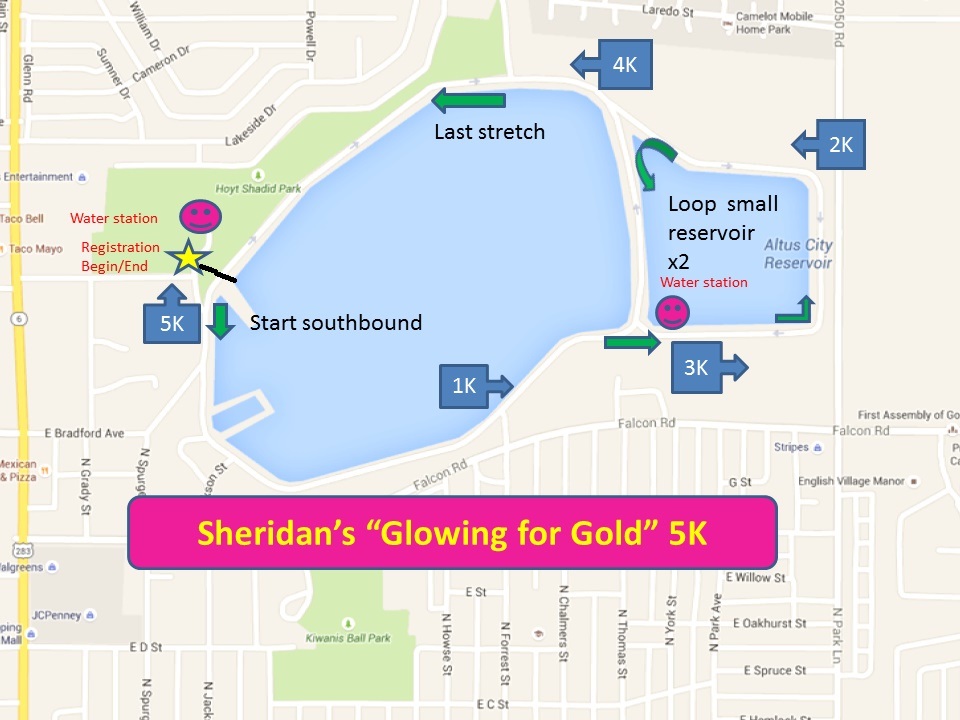 In consideration of the acceptance of this entry, I understand and assume all risk and full and complete responsibility for any injury or accident which may occur during my participation in the Sheridan Sunshine foundation Glow run/walk, or while i am on the premises of the event, and hereby release and hold harmless the sponsors, promoters, and all other persons and entities associated with the event from any and all injury or damage and liability. I acknowledge that I am familiar with the dangers involved in participating in such event and that there may be defects in the running/walking surface or other permanent or temporary obstacles which I must be careful to avoid. I also recognize that there may be vehicular traffic along the course.Enter waiver text here. SecureFee™ Registration Cancellation Insurance is offered in most states. If purchased, your registration may be covered for one of the covered reasons stated in the policy.