Event Closed
The event director has closed online registration for this event.
Event Information
T-shirts
Unisex Adult size t-shirts:
S
M
L
XL
XXL
XXXL

Youth size t-shirts:
Youth - S
Youth - M
Youth - L
About the Event
Please join us for this fun family event where you are invited to bring your dog. Participants who run or walk this event will take in the beauty of the Chehalis Western Trail. Water is available on the course for human and canine participants. We encourage you to stay around after the race for refreshments and a chance to win one of the many door prizes.
Volunteer to Help
We are seeking volunteers to help at this event. If you'd like to help, please register as a volunteer On he registration page.
Team Challenge
Get a team of 10 or more runners and receive a $5 discount per participant. For team captain, send a message to runlikeadog@gmail.com to register your team name. Remember to tell team members to select their team name when registering for the event. Trophy for the team with the most registered participants.
Race Cost
$25 through August 4th
$30 August 5th through day of race
$20 for registered teams with 10 or more runners
Course Maps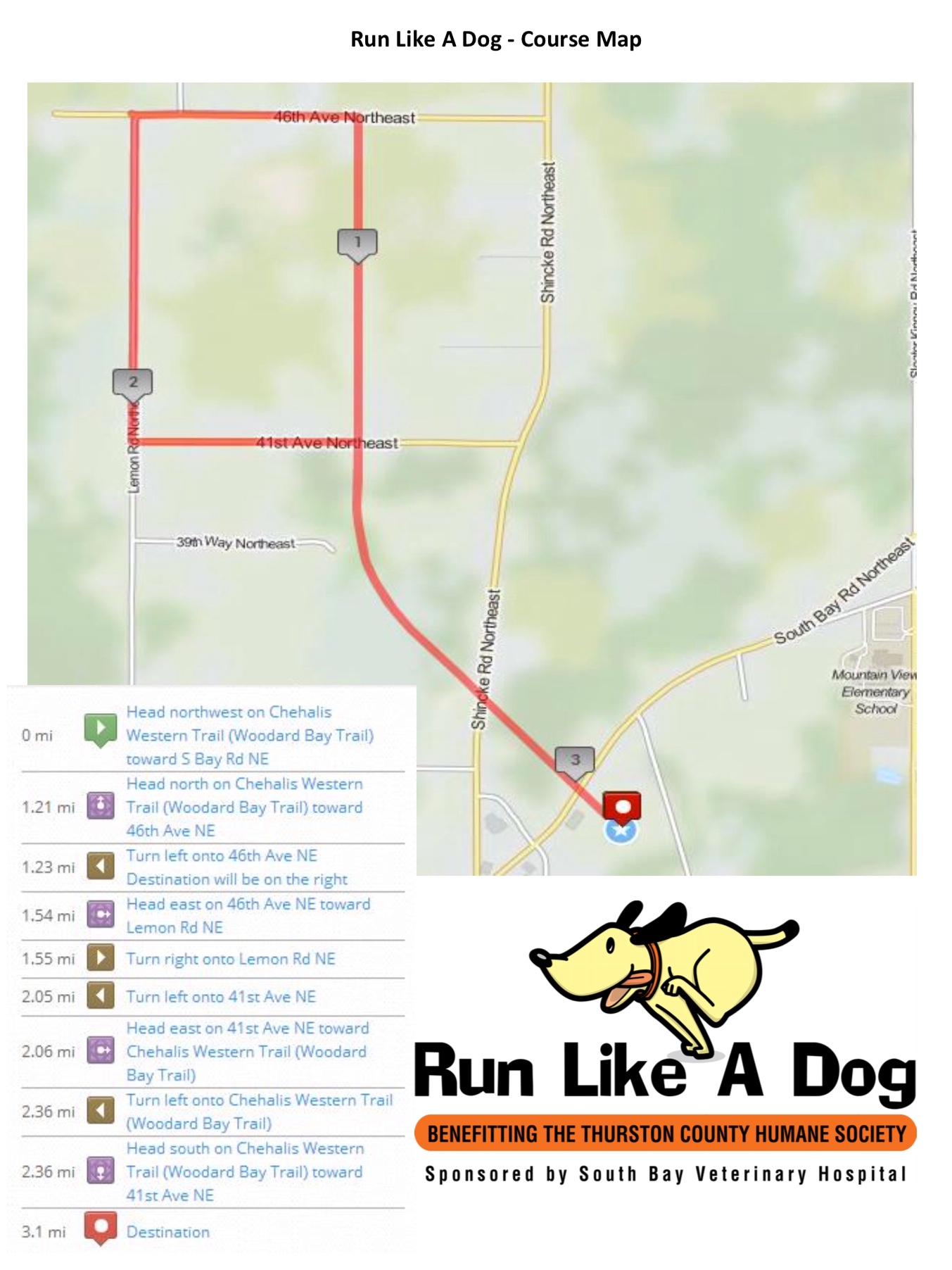 Team Registration Style
Please select a method of registration below:
Join a Team: Pick from a list of team names on the next page and join your team.
Create a Team: Once you create a team, participants can join your team under the "join a team" option above.
Individual Registration: Register as an individual participant.
Event Waiver: I, individually, (and/or as a parent, and /or guardian of the named minor) for and in consideration of acceptance of this entry in the aforementioned event, do hereby release, remise, waive and forever discharge the sponsor South Bay Veterinary Hospital, and any other supporting groups of this said training event, together with all their officers, agents and employees, from any and all liability, claims, demands, actions, or causes of actions whatsoever arising out of, or relating to any injury, illness, loss or damage, including death, relating to participating in the aforesaid event. I further state I am in the proper physical condition to participate in this event. In addition, I agree that my participation in this event requires that I will not participate with anything South Bay Veterinary Hospital or the coach deems dangerous to myself or other participants and that the coach or South Bay Veterinary Hospital may remove me from this program for any violation of said policy. I also agree that if any part or the entire program is canceled for any reason that all entry fees are non-refundable except in the case that not enough participants register, in which case a full refund will be granted.