Event Closed
Unfortunately, online registration for the ¡Fiesta 5K Olé! & Food Truck Festival has now closed. You can still register in person though. If you are trying to buy just a beer garden ticket, you can do so at the beer/margarita garden entrance on event day for $5 If you are trying to register for the fun run, you have two options: Road Runner Sports - Pre-Race Packet Pickup & Registration ($45) Location: Road Runner Sports, Green Lake 7020 Woodlawn Ave NE, Seattle, WA 98115 Date: Friday, May 4 Time: 2:00pm - 8:00pm Details: Come grab your bib, timing chip, & race shirt at Road Runner Sports Green Lake. Skip the lines on race-day and take advantage of some awesome offers from Road Runner including $10 from Road Runner Sports to spend on anything in the store! Don't miss out on this exclusive gift for race participants only when you join the Packet Pickup Party! AND a drawing for $250 in store credit! *YES! You are welcome to pick up additional packets for your friends or team members. In fact, we encourage it... help them skip the lines on race day and pick up everything at packet pickup. Day of Race Registration & Packet Pickup: ($45) Location: Volunteer Park, Cap Hill 1247 15th Ave E, Seattle, WA 98112 Date: Saturday, May 5 (Cinco De Mayo!) Time: 7:30am 9:15am Details: Pick up your bib, chip & event shirt prior to race start (9:30am race start) See you on race day! Happy Running!
Event Information
¡Fiesta 5K Olé! Information
Welcome to the 2018 ¡Fiesta 5K Olé! & Food Truck Festival!

Each participant, with entry, will receive a participant shirt, free entry into the post- race beer & margarita garden and your first beer on us!

Starting and finishing at Seattle's Volunteer Park on Capitol Hill, 5K Run/Walk participants will parade through the scenic Capitol Hill neighborhood before being greeted with a post-run fiesta like none other! After participating in the ¡Fiesta 5K Ole!, celebrate with your friends at the food truck festival. With live music all day, beer & margaritas flowing and over 25 of Seattle's best food trucks around, participants are encouraged to stick around and enjoy the festivities all day. You won't want to miss Seattle's largest Cinco De Mayo running event!
Extra Beer Garden Ticket
Extra beer garden tickets are available for purchase. Don't forget, if you are participating in the 5K, your entry is FREE. All you need to do is show your bib at the entry gate and you will be allowed in.

If you are not participating in the 5K -

If you have friends joining you after your race, they will need to purchase a beer garden entry ticket. This can be done with your 5K registration for $5. To avoid lines, purchasing a ticket early is your best bet!
Course Maps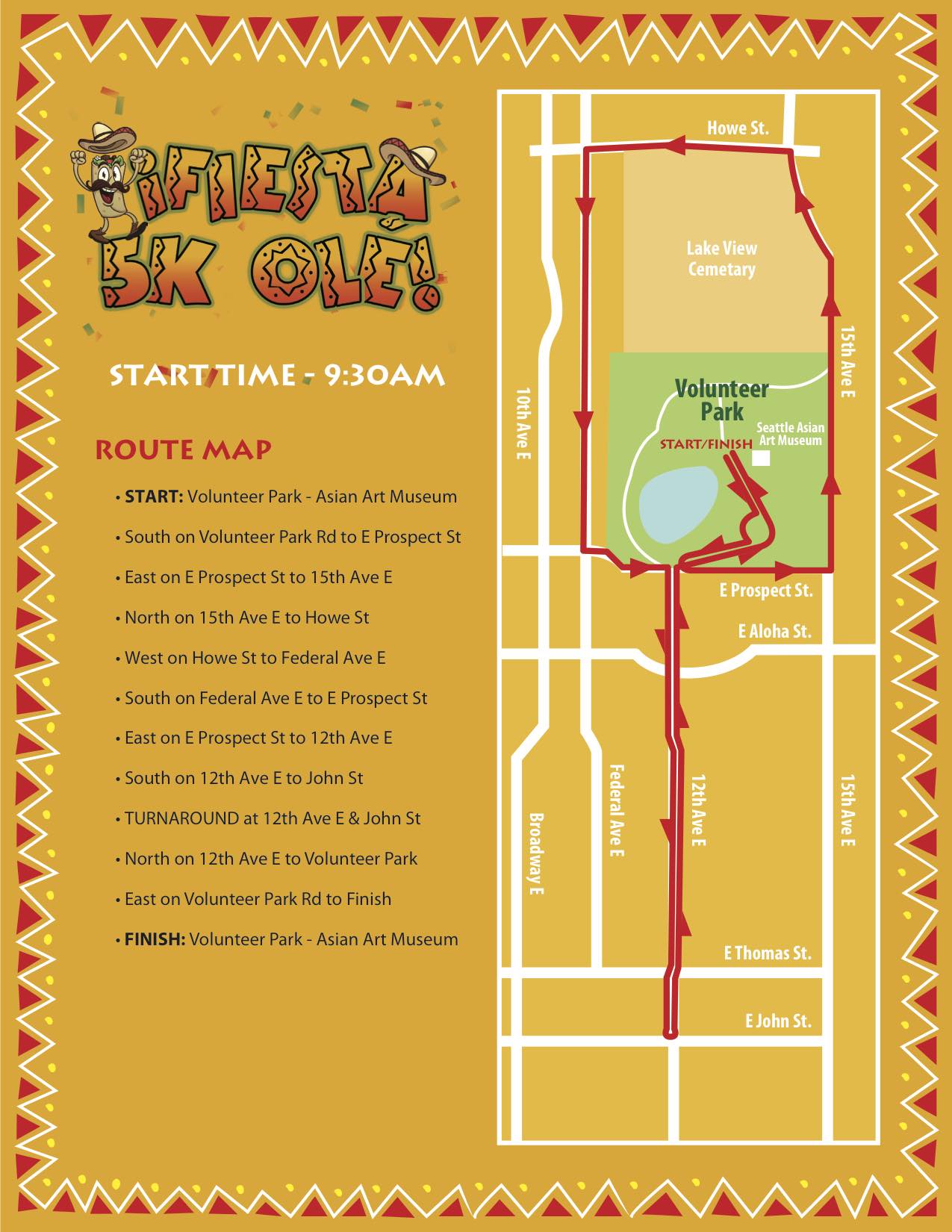 Team Registration Style
Please select a method of registration below:
Join a Team: Pick from a list of team names on the next page and join your team.
Create a Team: Once you create a team, participants can join your team under the "join a team" option above.
Individual Registration: Register as an individual participant.
I know that running a road race, regardless of the distance, includes an element of risk. I should not enter and participate in the 2018 Fiesta 5K Ole unless I am medically able and properly trained. I agree to abide by any decision of an event official relative to my ability to compete in this event safely and I further agree that event officials may authorize necessary emergency treatment for me. I also understand that, although police protection will be provided, both vehicle traffic and spectators may be present along the course and I assume the risk of participating in this event including, but not limited to, illness, traveling to and from the event, falls, contact with spectators or other participants, the effects of weather, and the surface conditions of the roads and sidewalks, all such risks being understood and appreciated by me. I agree not to be an operator of any wheeled device with the exception of an approved racing style wheelchair with dual handbrakes and a bicycle flag. As a wheelchair participant, I agree that I am fully responsible for my own safety, and I acknowledge all responsibility for any claim made by any other participant arising from collision with my wheelchair. Having read this waiver and knowing these facts, and in consideration of the acceptance of my entry, I hereby for myself, my heirs, executors, administrators or anyone else who might claim on my behalf, covenant not to sue, and waive, release and I discharge Fizz Events, LLC., City of Seattle, King County, event officials, volunteers and all other sponsors, suppliers, independent contractors, employees and any other personnel in any way assisting or connected with this event from any and all claims or liability of any kind of nature whatsoever arising out of my participation in this event, event though liability may arise out of negligence or carelessness on the part of the persons or parties named in this waiver. I also understand and agree that sponsors and event organizers may subsequently use, for publicity or promotional purposes, my name or pictures of me in this event without liability or obligation to me. Entries from minors will be accepted only with a parents or legal guardians signature.