Event Closed
The event director has closed online registration for this event.
Event Information
About Swim to Skim
The first annual Swim to Skim hosted by Clean Ocean Access is a .9 mile or 1.5 mile swim through Newport Harbor from Perrotti Park to King Park.
Day of Event Need to Know
Registration

Online registration closes at 6PM on July 7, 2018

Onsite registration begins at 530AM and ends at 615AM on July 8, 2018

Check-in

Check-in begins promptly at 530AM and ends at 645AM on July 8, 2018

Warm-up

Participants can warm up directly in the waters of the starting line at Perrotti Park

Course Map

A large course map will be provided with directional areas for both distances

Competition

There are 2 distances to the course (0.9 miles and 1.5 miles) with categories based on gender and wetsuit (including lava pants) and no wetsuits. Awards are giving to the 1st and 2nd place finishes in each category

0.9 miles
Women's
Wetsuit

0.9 miles
Women's
No Wetsuit

1.5 miles
Women's
Wetsuit

1.5 miles
Women's
No Wetsuit

0.9 miles
Men's
Wetsuit

0.9 miles
Men's
No Wetsuit

1.5 miles
Men's
Wetsuit

1.5 miles
Men's
No Wetsuit

A bag drop will be provided at the start line.

Swim to Skim will be chip timed.
What Comes with My Registration?
In addition to competing in this one of a kind swim through Newport Harbor, you'll also be racing for a great cause, raising money for Clean Ocean Access and healthy, clean waters in Narragansett Bay!

All participants will be provided a t-shirt and commemorative swim cap.

Clean Ocean Access will provide breakfast at the finish line.

Course Maps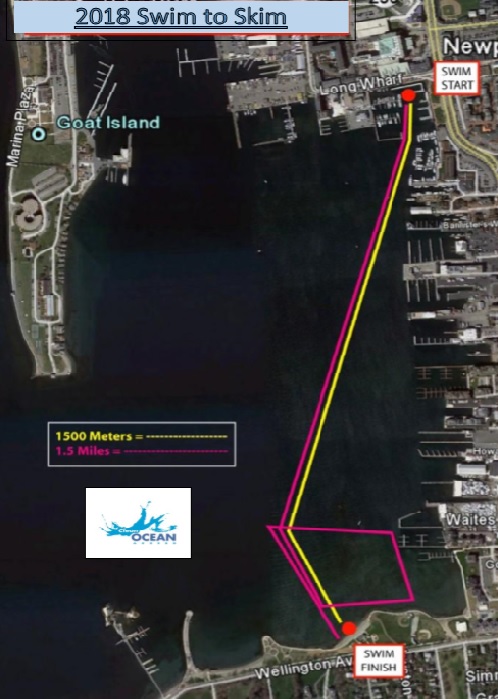 In consideration of the activities arranged by Clean Ocean Access, their agents or employees, officers, volunteers, participants, and all other persons or entities acting in any capacity by, through, under or on behalf of Clean Ocean Access (hereinafter collectively referred to as "COA"), which are in any way connected with my participation in any activity with COA or my use of any COA supplied equipment or facilities, including but not limited to those alleging negligent acts or omissions. I hereby agree to release, indemnify, and discharge COA, on behalf of myself, my spouse, my children, my parents, my heirs, assigns, personal representative and estate as follows: I acknowledge that my participation in anything associated with COA presents both known and unanticipated risks that could result in physical, emotional injury or death. I understand that such risks simply cannot be eliminated entirely without jeopardizing the essential needs of the activity. The risks include, among other things: hazards of slips and falls; cuts, abrasions and infections; health problems caused by exposure to the elements and weather; my own physical condition, and the physical exertion associated with this activity. I expressly agree and promise to accept and assume all of the risks existing in this activity. My participation in this activity is purely voluntary, and I elect to participate in spite of the risks. I have read and understand the safety tips for this event. By signing this document, I acknowledge that if anyone is hurt, or property is damaged or lost during my participation in this activity, I waive my right to maintain a lawsuit against COA on the basis of any claim from which I have released them herein. By supplying an email address I agree to receive news and notification of other COA events and activities. My address will not be knowingly shared or distributed to other organizations I irrevocably give, grant, and convey to COA, its successors, agents, and assigns, without compensation to me from any party including COA, the absolute right and unrestricted permission to copyright and/or use and/or publish (1) my name, (2) my image or likeness on videotape or digital imaging, and (3) photographic pictures or portraits of me or in which I may be included, in whole or in part, on reproductions in color or in black and white, made through any media, in connection with photos or videotape taken of me at a COA event for any purpose whatsoever, including but not limited to the promotion of COA. I further waive any right that I may have to inspect or approve the finished product. The videotape, photographs, and negatives will be the sole property of the COA. I have read the foregoing and fully understand its contents. I also understand that this permission is binding on my heirs, successors, and assigns. If I am under 18 years of age I confirm that my parent or guardian has understood the nature of all COA events and agreed for me to participate. In consideration of my application and permitting me to participate in this event, I hereby take action for myself, my executors, administrators, heirs, next of kin, successors, and assigns as follows: (A) Waive, Release and Discharge from any and all liability for my death, disability, personal injury, property damage, property theft or actions of any kind which may hereafter accrue to me including my traveling to and from this event, THE FOLLOWING ENTITIES OR PERSONS: MANUKA SPORT EVENT MANAGEMENT, CITY OFNEWPORT, US COAST GUARD, CITY OF NEWPORT PARKS AND RECREATION DEPARTMENT, STREAMLINE EVENTS, CLEAN OCEAN ACCESS, their directors, officers, employees, volunteers, representatives, and agents, the event holders, event sponsors, event directors, event volunteers; (B) Indemnify and Hold Harmless the entities or persons mentioned in this paragraph from any and all liabilities or claims made as a result of participation in this event, whether caused by the negligence of releasees or otherwise.