Event Closed
The event administrator has closed online registration for this event.
Event Information
Course
Seward Park is the ideal place for a 5k with a 3.1 mile loop around the peninsula. Public restrooms will be available along course. Route may change slightly on race day but will likely follow this course (please see map below).
Registration Fee
Please sign up early for the best rates. Price increases to $27 at midnight on 5/1/18 and will close on 7/4/19. Race day registration will be $35.

Group discount - register a group of 4 or more and receive 15% off each participant's registration fee; register a group of 10 or more and receive 20% off! Round up your family, friends and coworkers!

Awards
We will be using gun time to determine all award winners. Only the 5k run will be timed.

The top male and female winners of the 5k run will receive a grand prize each. There will also be a prize for the top winner of each age group for the 5k run. Race participants must be present to collect their awards.


Parking and Directions
Visit Seward Park

by Bus...
Bus #50 Exit at Orcas Street.

or by Car...
Seward Park is located on Lake Washington Blvd and Orcas Street in Southeast Seattle.
See directions below.

Parking:
There are many parking lots throughout the park and handicapped parking spots are spread out as well.

I-5 Southbound
•Take the W SEATTLE BR/COLUMBIAN WAY exit- exit number 163A.
•Keep LEFT at the fork in the ramp
•Merge onto COLUMBIAN WAY S.
•Turn SLIGHT RIGHT onto 15TH AVE S.
•Turn SLIGHT LEFT onto S COLUMBIAN WAY.
•Turn SLIGHT RIGHT onto S ALASKA ST.
•Turn RIGHT onto RAINIER AVE S/WA-167.
•Turn LEFT onto S ORCAS ST.
•S ORCAS ST becomes LAKE WASHINGTON BLVD S. 0.14 miles

I-5 Northbound
•Take the SWIFT AVE. exit- exit number 161- towards ALBRO PLACE.
•Turn RIGHT onto SWIFT AVE S.
•Turn LEFT onto S EDDY ST.
•Turn LEFT onto BEACON AVE S.
•Turn RIGHT onto S ORCAS ST.
•S ORCAS ST becomes LAKE WASHINGTON BLVD S. 0.14 miles

Race Day Schedule
8:00am - 8:45am : Packet pick up

9:00am - 9:05am : Kids' dash

9:05am - 9:15am : Warm up with Fit4Mom South Seattle

9:15am : Walk to start

9:20am 5k Run

9:25am 5k Walk

10:00am Meet the firefighters from the Rainier Valley Fire Station!

10:15am Awards ceremony




Course Maps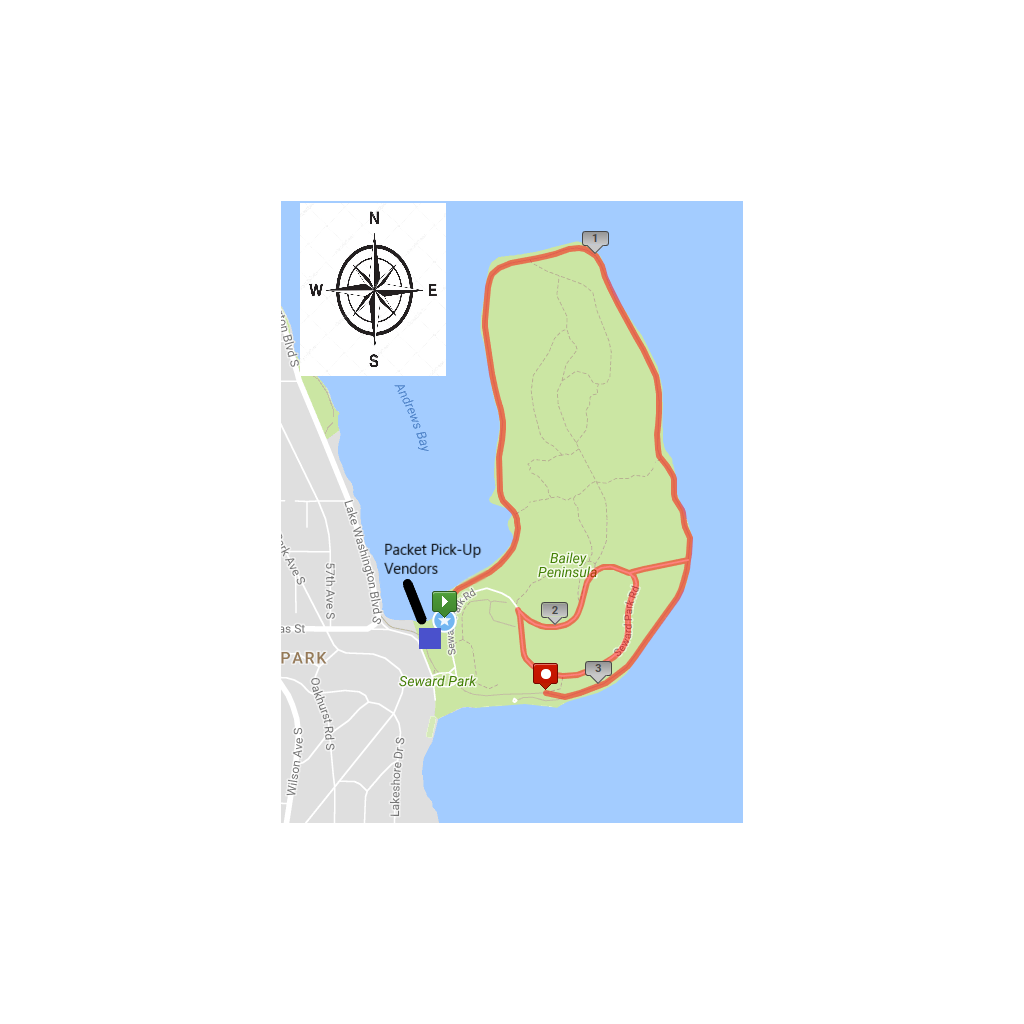 I know that running a road race is a potentially hazardous activity, which could cause injury or death. I will not enter and participate unless I am medically able and properly trained, and by my signature, I certify that I am medically able to perform this event, and am in good health, and I am properly trained. I agree to abide by any decision of a race official relative to any aspect of my participation in this event, including the right of any official to deny or suspend my participation for any reason whatsoever. I attest that I have read the rules of the race and agree to abide by them. I assume all risks associated with running in this event, including but not limited to: falls, contact with other participants, the effects of the weather, including high heat and/or humidity, traffic and the conditions of the road, all such risks being known and appreciated by me. I understand that bicycles, skateboards, baby joggers, roller skates or roller blades, animals, and personal music players are not allowed in the race and I will abide by all race rules. Having read this waiver and knowing these facts and in consideration of your accepting my entry, I, for myself and anyone entitled to act on my behalf, waive and release the Ultimate Summer 5k Fun Run/Walk, the city of Seattle, all event sponsors, their representatives and successors from all claims or liabilities of any kind arising out of my participation in this event, even though that liability may arise out of negligence or carelessness on the part of the persons named in this waiver. I grant permission to all of the foregoing to use my photographs, motion pictures, recordings or any other record of this event for any legitimate purpose. I understand that this event does not provide for refunds in the event of a cancellation, and by signing this waiver, I consent that I am not entitled to a refund if the event is cancelled before or during the event.