Event Closed
Online registration for this event is closed. You can register at the event on July 7, 2019. Registration begins at 7AM.
Event Information
Event Details
The only public trail run through Old Sturbridge Village! Consisting of dirt trails and paved roads this unique race will take you back in time as you run through covered bridges, beautiful scenery and 19th century living.

Run Like the Dickens, have a good time, and create a world of difference for our rescue horses!

***Exciting Raffle items. Bring spending money! Raffle tickets are 6 for $5 and 15 for $10. Cash only for the raffle.
This year we have signed Red Sox baseballs and an autographed Louie Tiant picture. These tickets are $5 each. Cash only for raffle.

***New this Year*** The Mr. Peanut mobile will be onsite passing out samples. Be sure to visit them for fun and games.
Race Day Details:

Date: Sunday July 7

Race start time: 8:30 AM

Location:

Old Sturbridge Village Education Center

1 Old Sturbridge Village Road
Sturbridge, MA 01566

Some important information you need to know for race day:

Registration begins at 7:00 AM.
Find your bib number on the posted sign. Pick up your number at the appropriate table.
Complementary handouts are available while they last.
Day of event registration ends at 8:00 AM.
Arrive early for best parking at the Education Center. Ample overflow parking is available about 0.5 mile away. You MUST be parked by an attendant's instructions. NO random parking. NO parking on the street.
The access road to the event CLOSES at 8:15. Absolutely no vehicles will be allowed in after the road is closed. Please plan accordingly.
One water stop is available on the course at mile 2.
Water and snacks are available after the race.
The race is primarily dirt roads and not suitable for strollers.
Due to OSV regulations you must be able to complete a 20 min/mi or be to mile 2 by 9:10 AM. There are no exceptions to this.
HAVE FUN!

Awards
Prizes awarded to overall first place male & female finishers.
Prizes for the 1st & 2nd place male & female finishers in age divisions:
up to 19, 20-29, 30-39, 40-49, 50-59, 60+
Course Maps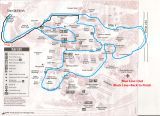 I agree to assume all responsibility for all risk of damage or injury to me as a participant in this event. In consideration of being accepted as an entrant in the Bay Say Equine Rescue 5K "Run Like the Dickens" race at Old Sturbridge Village, I hereby, for myself, my heirs, executors and administrators, release and discharge all organizations and individuals associated with the race from all claims, damages, rights of action, present or future, whether the same be known, anticipated, or unanticipated, resulting from or arising out of, or in incident to, my participation in this event. I hereby certify that I will not participate in the race unless I am physically fit and sufficiently trained for competition in the race. I also grant permission for the use of my name and/or picture in any broadcast, photograph or other account of this race. I understand that bicycles, skateboards, baby joggers or strollers, roller skates or blades, animals, and radio headsets are not allowed in the race and I abide by this guideline. I understand race costs are non-refundable and my registration is non-transferable. SecureFee™ Registration Cancellation Insurance is offered in most states. If purchased, your registration may be covered for one of the covered reasons stated in the policy.